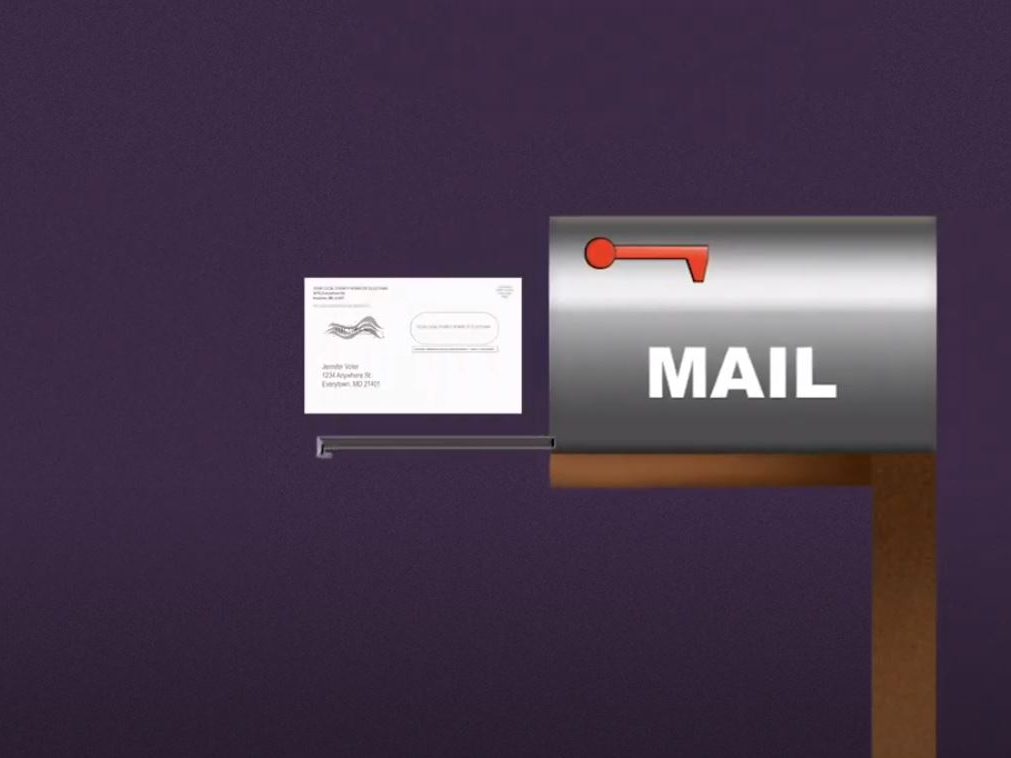 Steps to Vote by Mail for the Presidential Primary
Voting in the June 2 presidential primary election will be a bit different than in years past. Due to the public health emergency, this election will take place by mail. All eligible voters will receive a ballot in the mail this week.
Maryland holds closed primaries, meaning voters who are registered with the Republican or Democratic party will be able to cast their vote in that party's primary elections for President, Delegates to the Nominating Conventions, the U.S. House of Representatives, and Judge of the Circuit Court. Candidates who win each party's nomination will appear on the general election ballot in November.
Voters who are not affiliated with one of the major political parties may only cast a ballot in the Board of Education contests.
The Maryland State Board of Elections shared this video to assist voters.
The Montgomery County Board of Elections provides the following suggestions for steps that may help the voting process go smoothly.
Open the Vote-By-Mail Ballot packet and read the materials carefully.
Read the contests on the ballot and the information and forms sent with it carefully. Section 203 of the 1975 Voting Rights Act requires that voting materials and ballots in Montgomery County are printed in English and Spanish.
Vote the ballot.
Use a black or blue ball point pen.
Identification may be required.
Most voters do not need to provide ID to vote. Some voters need to verify their driver's license number or the last four digits of their Social Security Number on an enclosed Request for Maryland Driver's License or Social Security Number. A small percentage of first-time voters in Montgomery County may be required to submit a copy of proper identification such as a Maryland driver's license, Permit, MVA ID or official document including name and address. ID is only required if the words "ID REQUIRED" appear on the return envelope.
If anyone provides helps, sign and return the enclosed certification of person assisting voter.
If someone helps the voter vote their ballot, they must not influence the voter. You may not be assisted by your employer or an agent of your employer or union, the person helping you must complete the Certification of Person Assisting Absentee Voter. This certification must be returned with your voted ballot.
Use the reply envelope provided to return the ballot.
Place voted ballot into Postage Paid return envelope. Include a copy of your ID only if it is required along with any forms that apply to you, such as a Certification of Person Assisting Absentee Voter.
Sign, print name and date voter oath.
Sign and date the Oath of Absentee Voter on the back of the return envelope or it will not be counted. To protect the health of election workers,  seal the envelope with a wet sponge or cloth. Or use a piece of tape.
Return the ballot.
No postage is necessary. Voters are encouraged to fill out their ballot and mail it as soon as possible. You can find the nearest USPS collection box or Post Office by texting the word BOX to 77788 or by using the website https://tools.usps.com/find-location.htm.
Voters who do not want to use U.S. mail may use a Board of Elections drop box at one of the following locations between May 21 through June 2.
Montgomery County Board of Elections (currently available 24/7), 18753 N. Frederick Avenue, Gaithersburg
Silver Spring Civic Building (available May 21 through June 2), One Veterans Place, Silver Spring
Marilyn J. Praisner Community Recreation Center (available May 21 through June 2), 14906 Old Columbia Pike, Burtonsville
Wheaton Library & Community Recreation Center (available May 21 through June 2), 11701 Georgia Avenue, Wheaton MD
Activity Center at Bohrer Park (available May 21 through June 2, 506 South Frederick Avenue, Gaithersburg
Germantown Community Recreation Center (available May 21 through June 2), 18905 Kingsview Road, Germantown
Rockville City Hall (currently available 24/7), 111 Maryland Avenue Rockville
As a public health measure, Montgomery County will have four vote centers available June 2.  Those voters who cannot vote by mail should expect long lines at one of these four locations on Election Day and shall comply with the directive of the Governor regarding wearing a face mask or other face covering:
Silver Spring Civic Building, One Veterans Place, Silver Spring
Marilyn J. Praisner Community Recreation Center, 14906 Old Columbia Pike, Burtonsville
Activity Center at Bohrer Park, 506 South Frederick Avenue, Gaithersburg
Germantown Community Recreation Center, 18905 Kingsview Road, Germantown