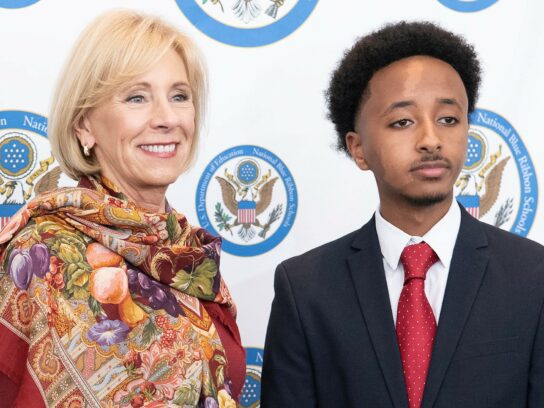 Student Member of the Montgomery County Board of Education (SMOB) Nate Tinbite made a wry remark about U.S. Secretary of Education Betsy DeVos in a tweet on Friday. 
The tweet featured a photo of straight-faced Tinbite standing with a smiling DeVos. The caption read, "Only one of us believes in public education." In a follow-up tweet, he said "(This tweet is an opinion of my own, not representative of my system or others.)"
https://twitter.com/NateTinbite/status/1195462219871510529?s=20
Tinbite spoke at the National Blue Ribbon Schools Recognition Ceremony on Thursday, where the photo was taken. 
The same photo and caption were also posted to Tinbite's Instagram account on Friday. 
Montgomery County Councilmember Evan Glass quote-tweeted the SMOB. He said, "Nate Tinbite is the student member of our board of education, a passionate advocate and always armed with game face."
Nate Tinbite is the student member of our board of education, a passionate advocate and always armed with game face. https://t.co/h2aQ9IeH9p

— Evan Glass (@EvanMGlass) November 17, 2019
Tinbite is a senior at John F. Kennedy High School and is five months into his one-year term as SMOB. He has full voting rights as a board member. 
Since becoming national education secretary in February 2017, DeVos has been criticized for advocating for charter schools and scaling back protections for marginalized groups within the education sphere. 
That February, the Department of Education rescinded rules that previously let transgender students use bathrooms that fit their gender identities.   
In June 2017, the department decided to cut back civil rights investigations at public schools and universities. Also, regional department offices were no longer required to report highly sensitive civil rights complaints to officials in Washington. 
In September 2017, DeVos changed guidelines on how universities should handle sexual assault cases. The guidelines put in place during Barack Obama's presidency were to use a "preponderance of evidence" instead of "clear and convincing evidence," which places a higher burden of proof on the victim. DeVos enforced interim guidance that let universities decide which standard of evidence they wanted to use. 
Background on National Blue Ribbon Schools:
At least one-third of public schools nominated by each state to be a National Blue Ribbon School must have a high percentage (usually at least 40%) of students from disadvantaged backgrounds. 
Nomination is determined by state test performance in reading and math, or a combination of test scores and other factors like state test scores on different subjects or student growth in test-taking. For high schools, nomination eligibility always includes graduation rates. 
The 2019 Maryland National Blue Ribbon Schools are: Mount Harmony Elementary School, Ocean City Elementary School, Pinewood Elementary School, Saint Joseph Regional Catholic School (NonPublic), Saint Raphael School (Non-Public), and Urbana High School. No schools from Montgomery County were chosen.