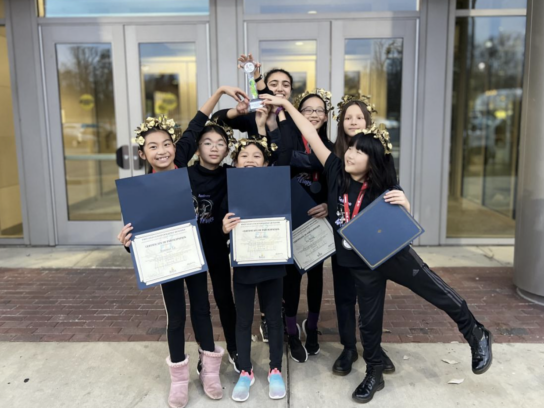 A group of six Montgomery County elementary and middle school girls will bring their design for a sidewalk system that generates clean energy to a FIRST LEGO League Challenge U.S. Invitational competition.
FIRST is a national robotics organization with local partners dedicated to allowing students to explore the STEM field through teamwork, innovation and competition. There are several leagues and divisions for different ages. Team Artemis competes in the LEGO League Challenge Division, which partners with LEGO to provide an opportunity for students aged 9-14 to solve real-world problems with technology in a sports-like environment.
The sidewalk tile system, named ArtemisWalk after the powerful Greek goddess and NASA program, harnesses energy from mechanical stress and solar power. This energy can then be used to power local businesses and street lamps. To boost the amount of electricity produced, the team suggests installing the tiles in busy areas with high foot traffic, such as the Rockville Town Center, Rio Washingtonian, and metro stations.
The first prototype for ArtemisWalk was built with wires, solar panels, piezoelectric transducers, LED lights, and glass tiles as well as bottle caps and cardboard packaging to emphasize the full-scale tiles would be made from recycled materials.
At the Feb. 25 FIRST LEGO League Maryland state championship, ArtemisWalk earned top-five placement and the Core Values Award, which honors teams for their enthusiasm, teamwork and respect for one another. The team will advance to a U.S. invitational event.
After receiving feedback from some Montgomery County officials and businesses, the girls are working on creating a larger prototype that can be debuted in more predominant spaces.
Team Artemis has worked since September 2022 to respond to the challenges presented in goal seven of the United Nations 17 Sustainable Development Goals. The goals of the U.N. serve as both a call to action and a plan to foster "…peace and prosperity for people and the planet, now and into the future," the website reads. The seventh goal focuses on ensuring "…access to affordable, reliable, sustainable and modern energy for all."
(Featured photo courtesy of the Montgomery County Department of Environmental Protection)