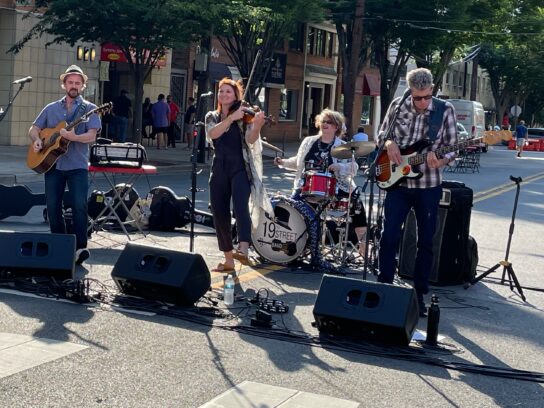 Free outdoor concerts return to downtown Bethesda Friday evenings during the summer months. The concerts, sponsored by the Bethesda Urban Partnership, offer a diverse range of music including rock, blues, folk, and Americana.
The free concerts begin in May and take place on Friday evenings from 6–8 p.m. at The Streetery, located at the corner of Norfolk and St. Elmo Avenues.
Residents are invited to purchase food, beer and wine from downtown Bethesda restaurants during the concert. No outside alcohol is allowed.
Schedule of Concerts
May 27
The Walkaways
Americana
June 3
Patrick Alban and Noche Latin
Latin
June 10
8 Ohms Band
R&B
June 17
Jay Byrd & The Musical Trust
Folk
June 24
La Unica
Latin
July 1
Calista Garcia
Folk and Rock
July 8
The 19th Street Band
Bluegrass
July 15
Moonshine Society
Blues and Rock
July 22
Soul Crackers
Soul
July 29
The Sidleys
Rock
September 2
Ocho de Bastos
Latin
September 9
Heather Aubrey Lloyd with ilyAIMY
Folk
September 16
Eric Scott
Soul