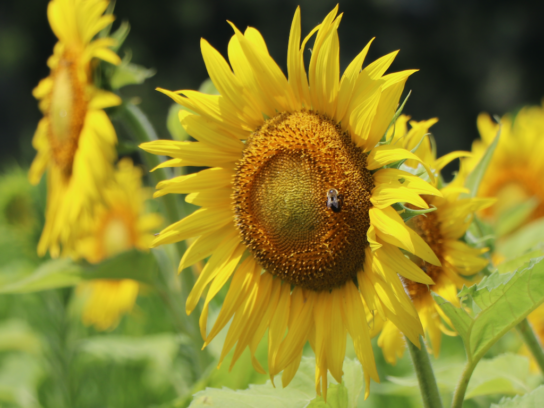 So you didn't pop for those tickets to the Van Gogh Immersive Experience. There's still time to pick up the vibe. Starting August 6 through 15, you can travel to Butler's Orchard and stroll among the abundant blossoms at their Sunflower Spectacular. The spectacle stretches for two football fields filled with the fabulous flowerheads. And if you are feeling photographic, stop at some of the strategically placed props to take your pictures. Tuesday through Thursday the price of admission is $5, $10 on weekends.
Included with admission: Giant slide rides, farm animals, pedal tractors and picnic areas. You also gain entry to the pick-your-own fields.
A long time Montgomery County destination, Butler's offers other attractions like fresh produce,  the Farmer's Porch Kitchen and during August,  a chance to Sip and Stroll with samples from local wineries and breweries.
Butler's is located at 22222 Davis Mill Road in Germantown. For more information, check out their website.