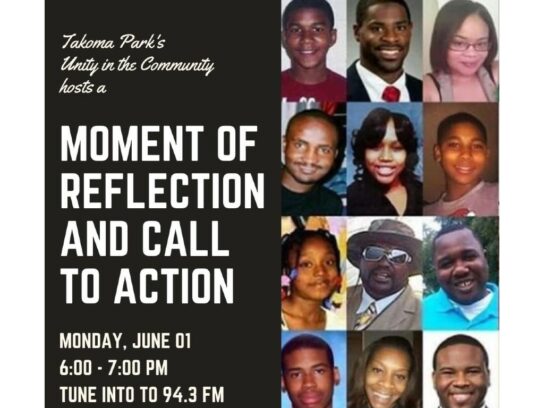 At 6 p.m. Monday, Takoma Park will hold an hour-long radio show to discuss racism in connection with police brutality and the coronavirus pandemic.
The radio show, Moment of Reflection and A Call To Action, will be aired on Takoma Radio Station 94.3. Numerous speakers will discuss "how we as individuals, and as a community, will help eradicate racism in this country and work toward just and equitable communities."
Takoma Park Police Chief Antonia DeVaul and Rockville City Chief Victor Brito sent messages to their residents concerning the death of George Floyd after he was knelt on for several minutes by police officer Derek Chauvin in Minneapolis.
DeVaul wrote that he was "deeply disturbed by the actions of the Minneapolis Police officers in the murder of George Floyd, adding that the officers' actions "go against the basic law enforcement principle of the preservation of life. The lack of compassion, abuse of power and use of excessive force does not just tarnish our profession, they tear at the very fabric of race relations in our country."
Here is DeVaul's full message:
Message to the Community From Chief DeVaul on the Death of George Floyd
Chief Brito wrote on behalf of his department, noting, "We are deeply disturbed with what we saw. There is no justification for what occurred here."
Brito explained that he was uniting with law enforcement leaders throughout the country "to confront the failures of our profession lest we repeat them and cast doubt on our legitimacy."
Read his full message here.
Also speaking out is Montgomery County Police Chief Marcus Jones, who earier said that his first thoughts were "total disgust."
Every time another incident of police brutality occurs and is repeatedly shown on television and social media it harms his department's relationship with residents, Jones said.
"I am frustrated, and I am disappointed in many ways."