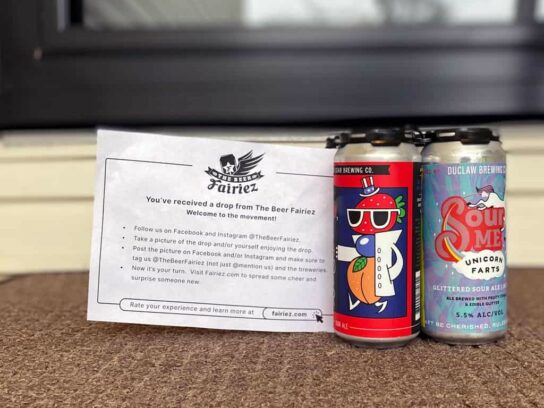 It's not just a simple game of ding dong ditch and leaving a few cans of booze behind. 
Rockville lawyer Josh Bienstock and wife Jen Bienstock talked with County Cable Montgomery's Susan Kenedy about their efforts to spread joy and say thank you to first responders and frontline workers with some locally crafted beer. 
The couple calls themselves the beer fairies but with a "z." They drop off a letter of thanks and four county-brewed beverages to Montgomery County's local heroes. 
Many local breweries donate the beer and several thousands of dollars in funds have poured in to help gift some happiness door-to-door.
"One of the greatest joys I've had was making a drop to somebody who works in the dairy department of a local Giant and has showed up," Josh said in the video.  "And it just so happens that that person was working in the dairy department at Giant when I was a kid and was always friendly. But I have noticed that he has always shown up."
C0uncilmember Andrew Freidson recently joined Josh for one of his drops. "Cheers to the @TheBeerFairiez and the local craft breweries making sure we take care of people who take care of us," Friedson said in a tweet.
Watch Susan Kenedy's story:
Video courtesy of County Cable Montgomery, MyMCMedia's PEG Partner.