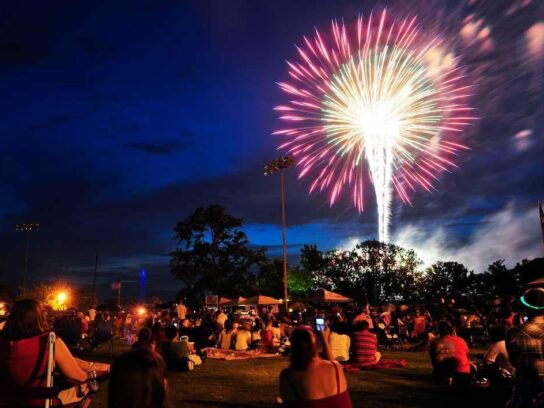 Welcome to our Weekend Roundup of events in Montgomery County. Here are nine things to do this weekend, July 1-4.
Friday, July 1
Fourth At Family Room in Laytonsville: From 5 P.M. to 10 P.M. The Family Room will open for fireworks, food, and fun. The whole family can enjoy some ice cream, Steeze Burger and Origin BBQ from 5 P.M. to 8P.M., and play games before settling down with an excellent view of the Montgomery Country Club fireworks. The fireworks start around 9:15 P.M. Get there early to secure a spot for the show.
First Fridays At Rockville: The monthly concert series is back! Beginning at 5:30 P.M. you can shop from a collection of locally owned boutiques and enjoy restaurant drink specials and happy hour features. After you've had your fill, you can dance to live music in the town square starting at 6 P.M.
Saturday, July 2
Kensington Mid-County Sparkles: The Albert Einstein High School is bringing back the Mid-County Sparkles for the whole family to enjoy. The event begins at 6 P.M. with a performance by the Joe Falero Band and continues when the band Quiet Fire takes the stage at 7:30 P.M. The fireworks display will begin around 9:15 P.M. with low lawn chairs, blankets, and coolers welcome and food vendors available throughout the night. For more information about the event and parking, click here.
One week from today is #IndependenceDay. We will celebrate with two celebrations. Mid-County Sparkles takes place this Saturday, July 2 and Germantown Glory takes place on July 4 at South Germantown Recreational Park. More info ➡️ https://t.co/Mq4Xxm0hwa. #MoCoRec pic.twitter.com/c7Jm6NfZkO

— MoCo Rec (@MoCoRec) June 27, 2022
Germantown Flea Market: If you have a knack for treasures or antiques, this is the place for you. From 8 A.M. to 1 P.M., you can look through between 50 to 150 vendors (depending on the weather) to find all kinds of things at the MARC parking lot. If you are interested in being a vendor, the spots are on a first come first serve basis with a $25 cash fee per space. For more information about being a vendor click here or email Info@germantownmdhistory.org
Summerfest At Bohrer Park in Gaithersburg: If you're free from 6 P.M. to 11:30 P.M., the Summerfest at Bohrer Park is sure to entertain. The free event features live music, food trucks, local breweries, family-friendly activities, and a spectacular fireworks display and the SummerGlo After Party at the end. With the dance band Nation performing at 6 P.M. and during the After Party, the delicious offerings, and the beautiful fireworks, this event promises to be fun for the whole family.
Sunday, July 3
Summer Blast Fair Silver Spring: Enjoy the day at the Veterans Plaza in Silver Spring. From 11 A.M. to 8 P.M., the whole family can enjoy live music, multiple vendors, and food trucks. If you are interested in becoming a vendor, you can buy your space here.
Make the "My Independence Summer Blast Fair" a part of your weekend festivities! Sunday, July 3rd, 11am – 8pm at Veterans Plaza. Featuring vendors, live music, food trucks, and more! https://t.co/oRh1r64isj pic.twitter.com/SNSOwMdYPp

— Silver Spring Urban District (@SilverSpringMD) June 29, 2022
Monday, July 4
Poolesville 4th of July Fireworks: Don't miss your chance to catch the fireworks show presented by the Town of Poolesville and the Upper Montgomery County Fire Department. Taking place at the soccer fields at Hughes Rd and Sugarland, the event will host multiple food trucks and food vendors, live music by Jeff Carmella, and representation by local churches – all to celebrate the 4th. The gates open at 5 P.M.
Rockville Independence Day Celebration: The annual event  held at Mattie J.T. Stepanek Park in King Farm runs from 7 P.M. to 10 P.M. Vertigo Red will perform at 7 P.M. to start the night. After the mayor and council greeting, a performance of the National Anthem by the Victorian Lyric Opera Company at 8:55 P.M., and more music by Vertigo Red, the 20 minute fireworks display will spark at 9:15 P.M.
Germantown Glory Celebration: Starting at 7 P.M. with a concert by Quiet Fire, the free Germantown Glory event  at the South Germantown Recreational Park will kick off a fireworks display at approximately 9:15 P.M. Along with the live music, food vendors will be available for refreshments.