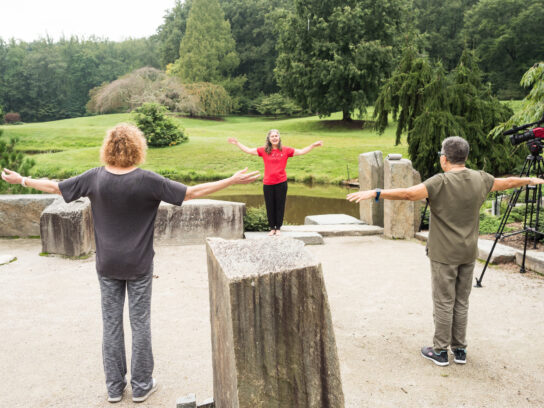 Montgomery County's Third Annual Active Aging Week takes place Monday, Oct. 5 through Sunday, Oct. 11.
The week is part of an international initiative to promote healthy lifestyles, specifically for those 50 years and older. Many programs and opportunities to participate are available throughout the week.
Events are co-sponsored by the Montgomery County Department of Health and Human Services (DHHS), Montgomery County Recreation, Montgomery County Public Libraries (MCPL), Maryland-National Capital Park and Planning Commission, Montgomery Parks and the Montgomery Energy Connection – Department of Environmental Protection. Local nonprofit organizations and hospitals will also host events.
"Active aging is about being engaged physically, socially, intellectually and spiritually," said Robin Riley, director of Montgomery County Recreation and co-chair of the Age-Friendly Montgomery initiative. "Trying new things and engaging in community activities can keep us healthy and happy throughout our lives. Montgomery County strives to be a fun community that makes staying active easy."
The "Go, Grow & Get Active" signature event, hosted by Montgomery Parks at Brookside Gardens, will be held virtually on Wednesday, Oct. 7, from 9:30-11:30 a.m.   View the event on County Cable Montgomery and follow along for Zumba Toning, Laughter Yoga and TaijiFit demonstrations.  Physicians from "Walk with a Doc" will provide health tips and encourage everyone to celebrate "Walk Maryland Day!", also held on Oct. 7.
A complete schedule of free Active Aging Week events may be found by going to the County's seniors website and clicking on "Senior Calendar." Activities include walks, fitness classes, book discussions, language conversation, games, technology skill classes, volunteer information, and much more.