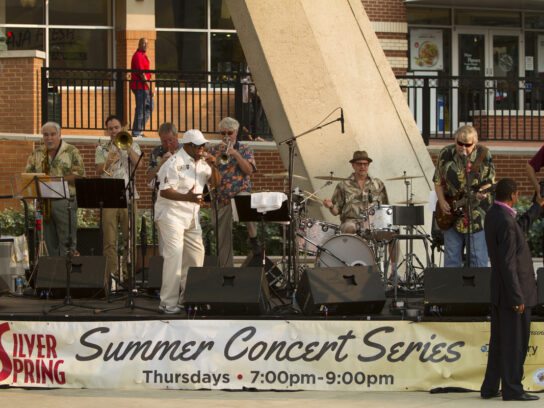 County residents can prepare to grab their dancing shoes as the free "Silver Spring Thursday Night Concerts" series will start up again this week.
The concerts will take place at Veterans Plaza from 7 p.m. to 9 p.m., every Thursday from June 23 through Aug. 11, according to Montgomery County. There are a total of eight concerts scheduled for this summer.
"[It] will kick off with the Latin rhythms, Spanish vocals and Celtic instruments of La Unica, Latin Celtic Rhythms on June 23," the county said in a press release on Tuesday. "Attendees can bring chairs…Food and drinks are available from the many nearby downtown eateries. No alcohol is permitted on the plaza."
Should there be inclement weather, such as rain, at the start of the concert, the performances will be canceled, according to the county.
The following lineup for this summer was provided by the county:
June 23: La Unica, Latin Celtic Rhythms.
Latin rhythms, Spanish vocals, and Celtic instruments combine for an upbeat danceable fusion.
June 30: Moxie Blues Band, Blues.
The six-piece Moxie Blues Band plays blues and blues rock with a touch of Southern rock.
July 7: Josh Christina, Rockabilly.
Baltimore-based rockabilly artist Josh Christina inherited his musical chops from his father (a drummer), his mother (Baltimore-area singer Patti Christina) and his grandmother, who was a big band singer in the 1940s and '50s. Josh spent the past 15 years honing his sound—a combination of the country, classic rock, big band and rockabilly. 
July 14: Ocho de Bastos.
Latin Ocho de Bastos (Eight of Clubs) blends powerful drums, Latin percussion and catchy brass riffs with a unique guitar sound.
July 21: Guys in Thin Ties, '80s Alternative.
The alternative '80s band plays your favorite, hard-driving tunes from the era of MTV and rad music videos.
July 28: Route 66, Classic Rock and Country.
Route 66, also known as Club 66, plays everything from rock and roll, classic rock, blues, Motown, boogie woogie and old school country.
Aug. 4: Elliot Levine, R&B and Funk.
The R&B and funk pianist has toured with Wilson Pickett, Heatwave and Brian McKnight.
Aug. 11: Gary and the Groove, Rock and Roll.
Their rock and roll music covers all decades from the 1950s to the '90s–and even some hits from today.
More information regarding the Thursday night concert series can be found here.