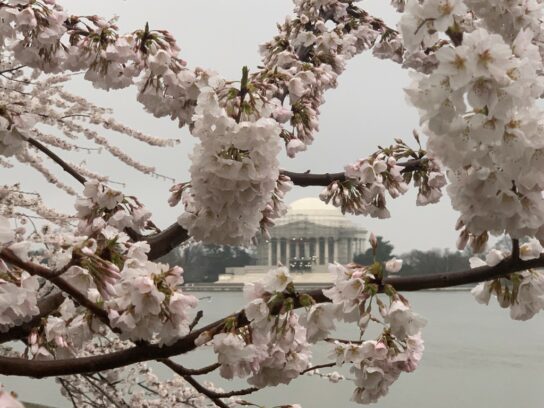 The Washington, D.C. Tidal Basin cherry blossoms reached peak bloom Sunday – four days earlier than expected – according to the National Park Service.
The Park Service had originally predicted the bloom between April 2-5 but due to above-average temperatures last week, the National Park Service believes the peaking stage was reached ahead of schedule.
The cherry trees have reached peak bloom after temps well above average last week sped us through the final stages of the blossom cycle – just four days from stage 4 to peak. Check out the pink and white blossoms ringing the Tidal Basin on the #BloomCam at https://t.co/OfPYrLqS2O pic.twitter.com/WjNqr8ifF5

— National Mall NPS (@NationalMallNPS) March 28, 2021
Currently, there are restrictions around the basin that will be in place from March 26 through April 12. Restrictions include fencing barriers and traffic adjustment to limit crowd sizes.
"We'll keep access to the Tidal Basin open as long as we can," said Mike Litterest, a spokesman for the National Park Service.
"But if and when we determine that crowds have gotten to the point that they can no longer meet social distancing guidelines or D.C.'s mass gathering limitation, we are prepared to close all vehicular and pedestrian traffic access to that area," Litterest told WTOP.
Instead of in-person visits, the National Park Service has encouraged the use of their Bloom Cam. The Bloom Cam shows a 24-hour live stream of the cherry blossoms around the basin.
Bethesda's Kenwood neighborhood cherry blossoms have yet to peak but are typically a few days behind the blossoms downtown.
The cherry blossoms in Kenwood are close to peak bloom but not quite there. The blossoms downtown reached peak bloom Sunday which was earlier than expected. Kenwood's blossoms typically are a few days behind. pic.twitter.com/MoAwDLAMgB

— MyMCMedia (@mymcmedia) March 29, 2021