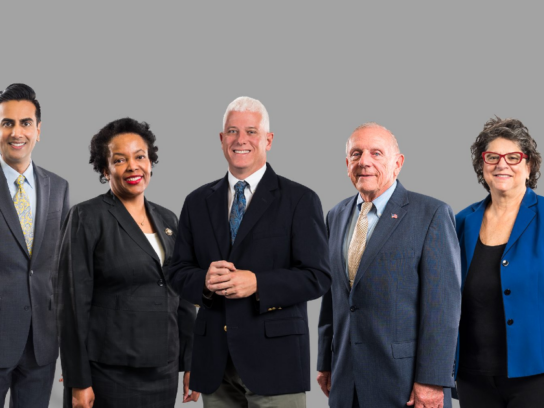 The deadline to apply to become a member of the planning commission is 5 p.m. Tuesday.
According to Council President Gabe Albornoz, the process will move quickly after that, with finalists appearing before the council and a public hearing held Oct. 25 and a vote on the temporary positions set for Oct. 27.
That leaves nine days between closing applications to choosing the new temporary board members.
However, under Maryland law, the process to fill vacancies on the Maryland-National Capital Park and Planning Commission shall take "at least three weeks." From the time the list of applicants is completed and before an appointment is made available to the public must take at least three weeks, it states.
But county officials believe that because these positions are considered temporary and acting, that law does not apply.
According to Montgomery County Legislative Information Officer Sonya Healy, "The designation of temporary acting officials is a longstanding and necessary part of government operations. Maryland law supports the Council's action to temporarily fill these vacancies to allow government to function and ensure continuity of service."
She also noted in the email to MyMCM that the new council that will be elected in November "will be charged with appointing the Planning Board members to serve out the remainder of the terms for each of the five Planning Board positions. The new Council will be inaugurated on Dec. 5."
In a Facebook posting about the vacancies, Councilmember Evan Glass commented, "Filling vacant seats with interim appointments is an expeditious manner is consistent with state and county law."
He also noted, "Government functions must continue despite a vacancy. Therefore, whenever there is a vacancy in office, courts allow the appointing authority to name acting and temporary officials to provide continuity of operations."
Anyone appointed temporarily can be appointed permanently, according to Glass.
But the Parents' Coalition of Montgomery County maintains that the expedited timeline means the county is in violation of state law.
Following controversy and ongoing investigations, all commissioners on the Montgomery County Planning Board resigned Oct. 12, following a vote of no confidence by the Montgomery County Council.
Councilmembers said in a statement they have accepted the resignations of Montgomery County Planning Board Chair Casey Anderson, Vice Chair Partap Verma and Commissioners Gerald Cichy, Tina Patterson and Carol Rubin effective immediately.
Council president Gabe Albornoz spoke about the situation on Monday.
Related Post
Planning Board Commissioners Resign Following No Confidence Vote