Upcoming Classes Enrollment
Multimedia Production Class Schedule
Start Date
Class
03/03/2020
MCM March Orientation
All roads to creating content at MCM starts here! Meet new members, learn about professional training and networking opportunities for emerging media makers, and important organization policies. Orientation is the required prerequisite for all training, program submission, and volunteer opportunities at MCM. Prerequisites: NoneLength: 6:30 PM - 8:30 PMFee: $10
03/07/2020
One Day Podcasting Bootcamp!!


Class is full, waiting list only


Own the air waves with this turn-key class to learn the nuts and bolts of podcasting! Participants will learn how to create a podcast starting with a concept idea through all the steps of creation and distribution.Prerequisites: Orientation & MembershipLength: 10 AM - 3:30 PMFee: $150
03/12/2020
Video Editing – Adobe Premiere Pro
Adobe Premiere Pro is a respected and popular professional video editing platform. Commonly and widely used in the industry, Adobe Premiere Pro is capable of creating a video with outstanding transitions, effects, and layering. Learn how to polish your videos with a little editing finesse! Prerequisites: OrientationLength: 4 Weeks (Thursdays) 6:30 PM - 9:30 PMFee: $150
04/18/2020
One Day Podcasting Boot Camp!!
Own the air waves with this turn-key class to learn the nuts and bolts of podcasting! Participants will learn how to create a podcast starting with a concept idea through all the steps of creation and distribution.Prerequisites: Orientation & MembershipLength: 10 AM - 3:30 PMFee: $150
04/21/2020
MCM April Orientation
All roads to creating content at MCM starts here! Meet new members, learn about professional training and networking opportunities for emerging media makers, and important organization policies. Orientation is the required prerequisite for all training, program submission, and volunteer opportunities at MCM. Prerequisites: NoneLength: 6:30 PM - 8:30 PMFee: $10
04/29/2020
2 in 1: Videography & Editing Class
Earn 2 certifications in 1 class! We'll cover field production and editing basics by creating a short video segment for broadcast and web distribution.Prerequisites: Orientation & MembershipLength: 6 Weeks (Wednesdays) 6:30 - 9:30 PMFee: $175
04/30/2020
Studio Production Technician
Explore behind-the-scenes TV studio magic by crewing actual MCM studio productions. In a professional studio environment, participants learn how to operate studio production equipment while serving as production crew in various technical positions.Prerequisites: Orientation & MembershipLength: 6 Weeks (Thursdays) 6:30 - 9 PM & Studio Shoot (Evening, 1st or 4th Monday)Fee: $175
*Multimedia production classes are for ages 18 and over.
MCM orientation is open to all ages.
Youth Media Training
Start Date
Class
03/04/2020
MCM Teen Filmmaking Volunteer Program
Students grades 8-11 can earn SSL hours on Wednesdays this spring during MCM's Youth Media After School Program.Prerequisites: Pay MCM Youth Membership FeeLength: March 4th -April 1st (5 sessions), 4 PM - 6 PMFee: Free (must join MCM)
Start Date
Class
04/06/2020
MCM Spring Break Multimedia Camp
Get a taste of podcasting and video production during the Spring Break Multimedia Camp. Students will learn the basics of green screen production and how to produce a podcast working in our podcast studio.Prerequisites: NoneLength: 1 Week, Monday-Friday, 8:30 AM - 4 PMFee: $300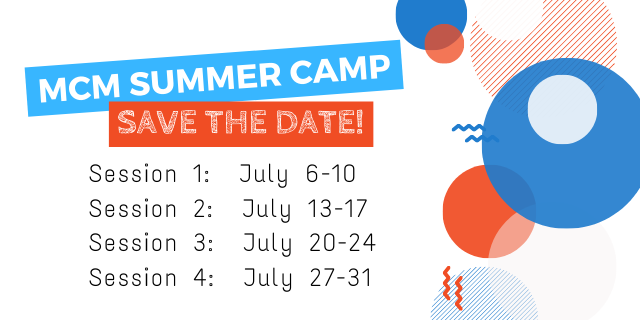 Need More Info? Fill Out the Form Below.