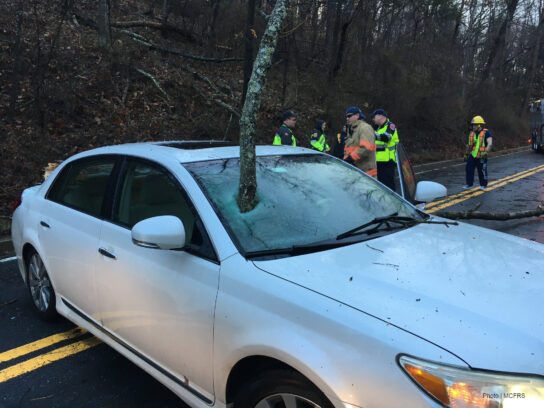 A tornado warning was issued this morning for Montgomery County, as cells of strong rain and wind passed through the county. Areas of the county that saw the greatest amount of damage include the Germantown, Boyds, Poolesville, Bealsville, and Darnestown areas. There have been numerous reports of downed trees and power lines.
Drivers are reminded to treat non-functioning traffic lights as four-way stops.
Residents who encounter downed power lines should keep their distance and call 9-1-1 to report them.
Earl Stoddard, the Director of the Office of Emergency Management released this update on Twitter:
(VIDEO) An update on today's weather and impact from @ReadyMontgomery @EarlStoddard: pic.twitter.com/VT4v8sMHP6

— Montgomery County MD (@MontgomeryCoMD) February 7, 2020
There are reports of possible downed trees and power lines due to the weather. Keep your distance from downed power lines and call 9-1-1 to report them. If you need information or have questions about any County service call 3-1-1 in the County or 240-777-0311. pic.twitter.com/Gd0ewbMBF5

— Montgomery County MD (@MontgomeryCoMD) February 7, 2020
@ReadyMontgomery advises that storm damage affects multiple roads in Western and Northern Montgomery County (Barnesville, Boyds, Dickerson, Poolesville). Follow police direction and treat non-functioning traffic lights as 4-way stops. pic.twitter.com/RFcQxJaJJO

— Montgomery County MD (@MontgomeryCoMD) February 7, 2020
🚦Please be aware of non-functioning traffic lights on your commute this morning. Treat non-functioning traffic lights as 4-way stops. Follow police direction. #MoCo #MdTraffic

— MC Emergency Mgmt (@ReadyMontgomery) February 7, 2020
ICYMI (755a) Old Hundred Road IAO btwn Frederick Rd & I-270 @mcfrsPIO7 road closed no injuries pic.twitter.com/IcdWkr61gl

— Pete Piringer (@mcfrsPIO) February 7, 2020
Reports of possible downed trees and power lines are coming in due to the weather. Keep your distance from downed power lines and call 9-1-1 to report them. If you need information or have questions about any County service call 3-1-1 in the County or 240-777-0311. pic.twitter.com/YY0O2O1xYe

— Montgomery County MD (@MontgomeryCoMD) February 7, 2020
🚦Please be aware of non-functioning traffic lights on your commute this morning. Treat non-functioning traffic lights as 4-way stops. Follow police direction. #MoCo #MdTraffic

— MC Emergency Mgmt (@ReadyMontgomery) February 7, 2020
🚨 Multiple closures & major delays on Route 28 (Darnestown Rd) in Poolesville area due to weather-related issues. AVOID Rt 28. Rt 28 & White Ground Rd: multiple trees down, collision. Rt 28 & Whites Ferry Rd: trees down, Rt 28 & Beallsville Rd: debris, poles, wires in road.

— Montgomery County Department of Police (@mcpnews) February 7, 2020