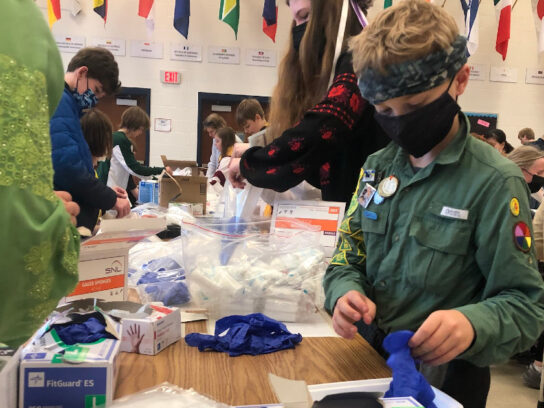 On Saturday, Ukrainian Girl and Boy Scouts spent their afternoon in Bethesda organizing supplies to ship to Ukrainian civilians affected by the war overseas.
The Washington, D.C. Chapter of the Plast Ukrainian Scouting Organization gathered at Westland Middle School to compile emergency medical kits. Supplies include Band-Aids, gauze, Tylenol, latex gloves, duct tape and other basic goods. The kits will go to an organization in New Jersey, to be mailed to Western Ukraine. Then, scouts in Ukraine will receive the kits and distribute them across the country.
"It's the most we can do to help right now," said Ella Russell, a Ukrainian scout. "Reposting stuff only does so much, to actually help them and supply them with things they need will actually help them more in the long run."
Russia began invading Ukraine in February.
"It's stressful," said Andrew Demidowich, Chapter President for Plast D.C., who has distant family living in Lviv, Ukraine. "But we all try to get together as a community, and you can only control what you can control. And this is us putting our energy to a good cause."
Whittaker Johnston, a boy scout with Troop 233 of Bethesda, said he has many Ukrainian friends, and, "As an American, I feel it's my obligation to help the citizens of the world that are under the face and the guise of tyranny and ensure freedom across the world." 
Third-grader Sofiya Dubchak said her grandparents live in Ukraine. Her message to them: "I would like to say to stay calm and not be too worried because the people in Ukrainian school are helping [make] first aid kits right now."
Olha Onyshko, a teacher at the Ukrainian Saturday School at Westland, commended the bravery of Ukrainian-American students during this time.
"They support, even, their parents. And I see that support they give each other, and they give everyone around them, and I am… I am moved," Onyshko said emotionally. 
The Plast organization is accepting financial donations to help cover the cost of shipping kits to Ukraine. Those interested in contributing can do so at aid.plastUSA.org. 
Another packing event at Westland Middle School will be held next Saturday, March 26 at 1 pm. Anyone is welcome to help.
The Ukrainian Girl and Boy Scouts of Plast are putting together emergency medical kits at Westland Middle School in Bethesda to ship to Ukraine. @mymcmedia pic.twitter.com/1XYNXWyH8x

— Maryam Shahzad (@maryam_mcm) March 19, 2022