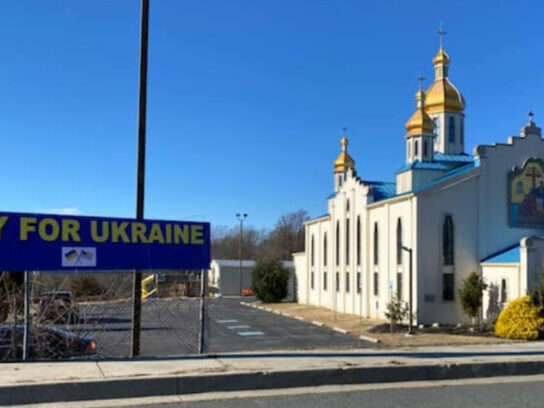 For 10 of her 25 years, Maryna Kapovska lived in the Ukraine, and her parents currently reside in its capital, Kyiv. Like most of her fellow members of St. Andrews Ukrainian Orthodox Cathedral bon New Hampshire Avenue, she worries about her family and her country's future.
"We are a country. We are going to promote our independence and sovereignty," she said, adding that this most recent Russian aggression is nothing new. "The Russian aggression has been ongoing for years and years and years," she said.
Kapovska came to America three years ago to obtain her Master's Degree at American University, where she studied International Education and graduated in May of 2021. Her sister also lives in America.
She tries to speak to her parents daily and fears for their safety and well being. They have made it clear they are not leaving the Ukraine, regardless how intense and dangerous life becomes there, she said. "My parents are very much patriots so they say whatever is going to come, they are not going to leave the country whatsoever."
She described her parents as "worried. They are tired. They are scared." The Ukrainian people are "just trying to prepare themselves mentally" and strongly wish to retain their independence, she said.
Every Sunday, the Arlington, Va. resident attends the church in Colesville and sings with the choir. Toward the end of the weekly service, everyone recites a prayer for the Ukraine.
Kapovska posts regularly on Instagram, showing support and also striving to educate Americans. She hopes others will do the same, keeping the Ukraine in their thoughts and social media posts.
Here is what Kapovska told MyMCM.
U.S. Senator Chris Van Hollen (D-Md) called Russia's invasion into Ukrainian territory "a gross violation of its sovereignty and the rights of its people. I support President Biden's decision to take swift action and impose a first round of sanctions on two Russian banking entities, Russian elites close to Putin, and Russia's sovereign debt – as well as Germany's decision to halt the Nord Stream 2 project."
In his statement, Van Hollen noted, "These tough sanctions – taken in lockstep with our allies – not only send a clear signal to [Russian President Valdimir] Putin but will also impose immediate costs on the Russian regime."