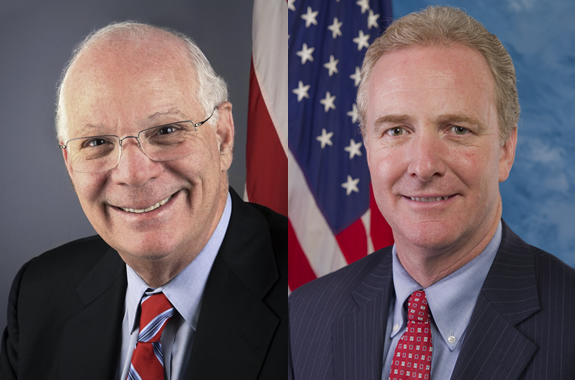 Van Hollen, Cardin Detail How Maryland Will Benefit from Senate Rescue Bill
In a joint phone call Thursday afternoon, U.S. Senators Ben Cardin and Chris Van Hollen detailed how the $2.2 trillion rescue bill unanimously passed by the senate Wednesday will benefit Marylanders.
The bill, which now goes to the U.S. House of Representatives, adds millions of dollars to unemployment insurance, transportation, hospitals and small businesses, said the two Maryland Democrats.
If approved, the rescue dollars needed to fight the coronavirus will allow those who were laid off to get employment funds right away and for four months longer than currently permitted, Van Hollen said.
The package includes sending up to $1,200 to all adults, depending on their income.
Van Hollen estimated that Maryland would receive about $2.3 billion from the $150 billion state stabilization fund. Much of that money is distributed by a set formula, with the largest municipalities receiving the most money.
Montgomery County is eligible to access the funds directly as it has more than the required 500,000 residents. The money can be used for a multitude of state needs.
Money also is allocated to education, both kindergarten through 12th grade as well as colleges, emergency housing for the homeless, transportation systems and health care workers and facilities.
Van Hollen said he expected Metro and Baltimore area transit to receive about $645 million total. "All of these have been stressed in regards to dollars," Cardin said. "These appropriations were critically important."
The money will pay for more protective gear for health care workers, additional ventilators and more hospital beds, Cardin said.
Face masks and other protective gear are vital so that health care workers can stay healthy and remain on the job, he said.
"We'll get the hospital beds, but will we have the people to man those beds?" Cardin questioned.
Cardin also called attention to a program that would lend money to small businesses to cover pay roll for the next two months. If an employer keeps paying staff and doesn't furlough workers, the loan will not have to be paid back, he explained.
"This bill is very expansive. It is designed to meet the emergency at this moment," Van Hollen said.