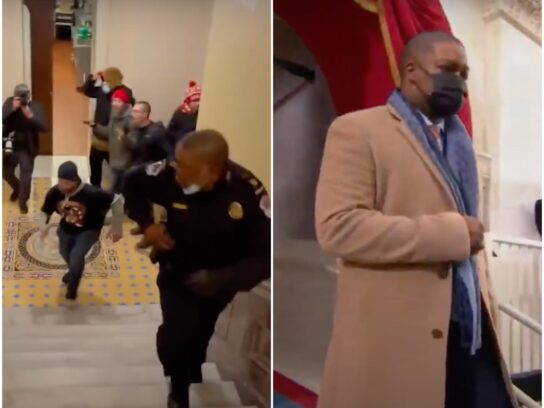 U.S. Sens. Chris Van Hollen and Ben Cardin (D-Md.) are among a bipartisan group of senators introducing a bill to award Capitol Police Officer Eugene Goodman the Congressional Gold Medal.
In addition to Van Hollen and Cardin, the bill is co-introduced by U.S. Sens. Thom Tillis (R-N.C.), Chris Coons (D-Del.), and Sherrod Brown (D-Ohio).
NEW: Senators introduce bill to award Officer Goodman the Congressional Gold Medal.

Version of the bill was previously introduced in the US House. pic.twitter.com/noTJyaAxWJ

— NBC Politics (@NBCPolitics) January 22, 2021
Goodman, a Prince George's County resident, has been hailed a hero for leading insurrectionists at the U.S. Capitol away from the Senate chamber doors on Jan. 6. At the time, senators were still inside the chamber. A Washington Post video analysis reports that the mob was within 100 feet of former Vice President Mike Pence and his family.
Goodman was recognized for his lifesaving actions at President Joe Biden's inauguration on Wednesday. Now with the new role of acting deputy Senate sergeant at arms, Goodman escorted Vice President Kamala Harris to the inauguration ceremony.
On Friday, Van Hollen tweeted about nominating Goodman for the Congressional Gold Medal: "Last week, I spoke to Officer Goodman to personally thank him for protecting our democracy and saving lives during the assault on our Capitol. I'm now honored to introduce a bipartisan bill to recognize this great Marylander's bravery with the Congressional Gold Medal."
Last week, I spoke to Officer Goodman to personally thank him for protecting our democracy and saving lives during the assault on our Capitol. I'm now honored to introduce a bipartisan bill to recognize this great Marylander's bravery with the Congressional Gold Medal.

— Senator Chris Van Hollen (@ChrisVanHollen) January 22, 2021