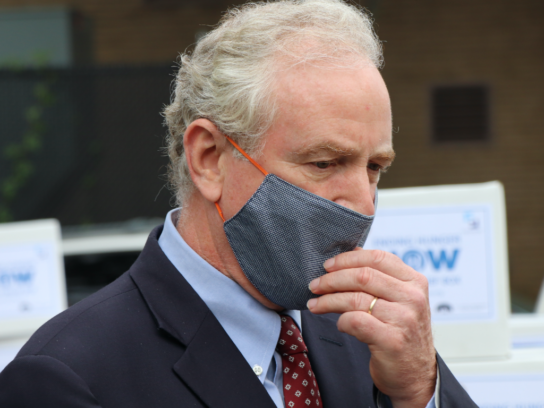 Sen. Chris Van Hollen spoke to MyMCMedia Friday about the passing of Supreme Court Justice Ruth Bader Ginsburg as well as the upcoming battle in the U.S. Senate over the court's vacancy.
Van Hollen said it was an honor to pay his respects to Ginsburg at the U.S. Capitol Friday. Ginsburg was the first woman to ever lie in state.
"She was an incredible force for equality. Sometimes she was in dissent, often, and when she was she wrote some very strong, stinging dissents that will be proven correct as time goes on, in fact, I think they already have been in many cases," Van Hollen said.
On Saturday, President Donald Trump announced his nomination of Judge Amy Coney Barrett to fill the Supreme Court vacancy.
By following normal procedures with a nominee, Van Hollen said Senate Majority Leader Mitch McConnell (R-Ky.) is violating the rule McConnell set in 2016 about not filling a Supreme Court vacancy during an election year.
"Mitch McConnell refused to even meet with or have a hearing for Merrick Garland," Van Hollen said, referring to former President Barack Obama's Supreme Court nominee put forth after the death of the late Antonin Scalia. "It's really an effort to stack the court with justices that first and foremost are going to overturn the Affordable Care Act or try to because there's a hearing on the Trump Administration's case, and their supporting the case, to overturn the Affordable Care Act—one week after the election is the hearing."
After learning Trump nominated Barrett, Van Hollen tweeted that he opposes confirming Barrett before the election.
"We will use every legal tool available to stop this abuse of power," Van Hollen tweeted.
By rushing to confirm Amy Coney Barrett before Nov. 3rd, Trump is not only refusing to hear from the American people but selecting someone who will try to dismantle the legacy of Justice Ginsburg. We will use every legal tool available to stop this abuse of power.

— Senator Chris Van Hollen (@ChrisVanHollen) September 26, 2020
We are in a pandemic and should be working to pass a relief bill. Instead, Republicans want to confirm Barrett to the Supreme Court to help them strike the Affordable Care Act, gut voting rights, civil rights, and take away every woman's right to reproductive choice.

— Senator Chris Van Hollen (@ChrisVanHollen) September 26, 2020