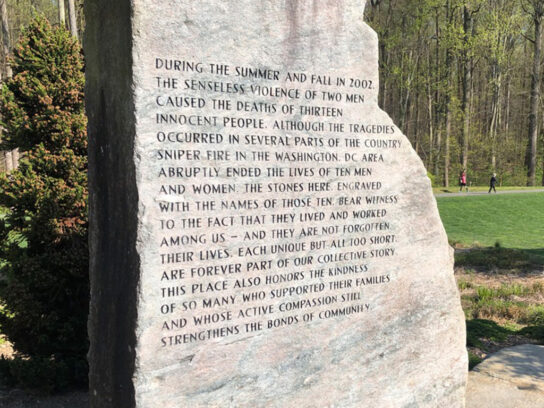 Beginning Monday night, Vice TV will air its eight-part series on the 2002 D.C. sniper shooting spree that left 10 dead and Montgomery County residents terrorized for three weeks.
Have you heard the Story of the DC Sniper, In His Own Words? https://t.co/waQFHbphnw pic.twitter.com/m7tsY8Xptf

— VICE (@VICE) May 8, 2021
I, Sniper is the story of the teenage sniper, Lee Boyd Malvo, in his own words.
In October of 2002, John Muhammad, and his protégé Malvo, terrorized the area, shooting random victims who were getting gas, loading their cars with packages or waiting for a bus. Malvo, who was 17, received 10 life sentences, some in Maryland and some in Virginia, and remains in prison. Muhammad was executed in 2009.
https://www.instagram.com/p/COsx2ndtzG_/
Two years ago, MyMCM sat down with David Reichenbaugh to talk about the sniper case. Listen here as Reichenbaugh, a Maryland State Police lieutenant at the time, talks about the case and his book, "In Pursuit, the Hunt for the Beltway Snipers."
Brookside Gardens in Wheaton has a memorial that's dedicated to the victims of the 2002 sniper attacks. MyMCM visited the memorial in 2017, 15 years after the attacks.
Related Post:
Montgomery Talks: Looking Back on Three Weeks of Terror During the 2002 Sniper Attacks