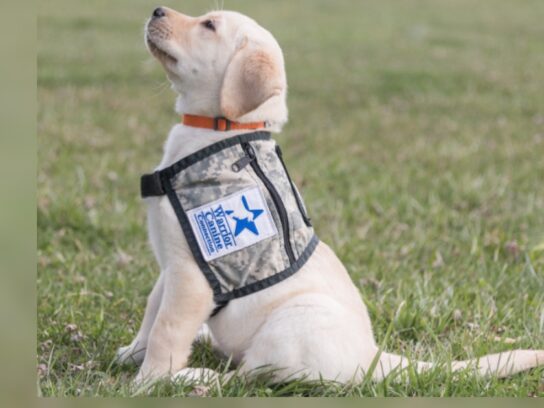 September marks National Service Dog Month, a time to celebrate and honor the extraordinary four-legged heroes that dedicate their lives to help human companions – something Warrior Canine Connection does all year round.
The organization's mission focuses on specially trained service dogs helping veterans in need nationwide. This month, they are bringing awareness to just how powerful the bond between humans and animals can be.
MyMCM visited Warrior Canine Connection's headquarters in Boyds to learn more.
According to the American Humane organization:
Service dogs are specially trained to perform specific tasks for people with disabilities as defined by the Americans with Disabilities Act.
They can be trained to retrieve objects, assist with balance, give seizure or diabetic alerts, or assist those with psychiatric disabilities.
They also serve our nation's wounded warriors suffering from conditions including Post-Traumatic Stress and Traumatic Brain Injury.
Here are best practices when around a service dog, according to Guide Dogs of America:
With thousands of Americans owning service dogs, there's a good chance you have come across one. It is important to know how to behave when around them.
A service dog plays a vital role in its owner's well-being. For this reason, you cannot treat a service dog like any other dog. Instead, treat service dogs as medical equipment.
Depending on the disability, a service dog can perform life-saving tasks. While they may look cute, service dogs are often the only thing standing between their handler and life or death.
If you want to speak or communicate with a service dog, approach the owner first.
If you can identify that a service dog is walking toward you, either scoop your pup up in your arms, cross the road or keep your dog on a short leash so that you do not provide a distraction.
If a service dog approaches you without its handler, don't just shoo it away. You might save someone's life. A dog in a harness without its owner nearby is unusual. If a service dog nudges you with its nose or barks at you with no owner in sight, it's a clue that the dog is seeking help. In this instance, follow the dog. It will lead you to its owner. Identify the situation, and if necessary, call 911 immediately.
My new friend! 😩😍
Of course I had to say hello to the puppies! @mymcmedia pic.twitter.com/zL4VCpZRGp

— Jordan Lindsay (@TVJordanLindsay) September 14, 2021