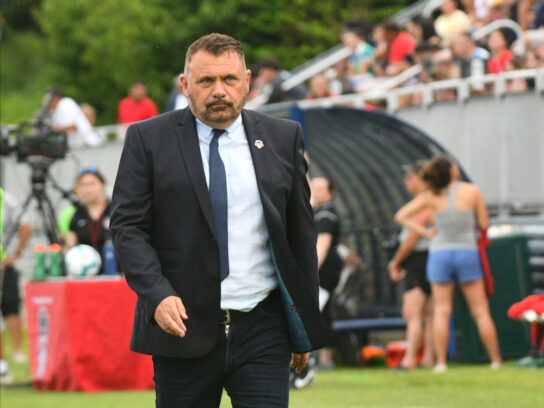 Washington Spirit team owner Steve Baldwin issued a statement Wednesday announcing that former head coach Richie Burke has been suspended. On Tuesday, Larry Best, Spirit's president of sporting operations, announced Burke was stepping down as head coach due to "health concerns" and was "re-assigned to the Spirit front office."
In his statement Wednesday, Baldwin explained, following Best's announcement about Burke on Tuesday, the team was contacted by a Washington Post reporter seeking comment on "allegations of mistreatment–verbal and emotional abuse leveled at players–by Coach Burke."
After the team was contacted by the Post, Baldwin says Burke was suspended and the team is investigating the allegations. Baldwin says in the statement, Burke is "prohibited from contacting players and staff and [sic] our facilities."
Statement from Steve Baldwin

— Washington Spirit (@WashSpirit) August 11, 2021
Baldwin's statement says, "We, as a team, will not tolerate any situation for our players and staff that is less than professional. Our athletes, and all of those who support them, deserve the absolute best."
The Post published its story on Burke on Wednesday, detailing allegations from former players who say that over Burke's two years serving as head coach of the Spirit, they have faced emotional and verbal abuse. The Post reports that some former players allege Burke has in some instances made racially insensitive and homophobic remarks.
Burke stepped down from the head coaching job yesterday because of "health reasons" and was "reassigned to the Spirit front office."

Today the Spirit and the NWSL said he had been suspended pending an investigation based on our reporting:https://t.co/bW7YbmZYAk

— Molly Hensley-Clancy (@mollyhc) August 11, 2021
Before the Post's story was published, Best's statement on Tuesday said the team was searching for a new head coach. "[In] the interim, I will support Kris Ward, Paul Crichton, and our staff to prepare for our match on Friday," Best's statement said.
A spokesperson for Spirit declined further comment beyond the statements released publically when asked by MyMCM. MyMCM reached out to the National Women's Soccer League for comment about the investigation of Burke's conduct but did not receive a response at the time of publication.
Before moving their home games to Audi Field in Washington DC and Segra Field in Leesburg, Va., Spirit played their home games and trained at the Maryland SoccerPlex in Boyds, Md.