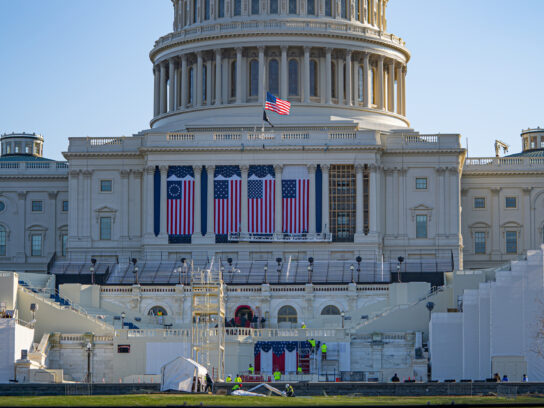 President-Elect Joe Biden and Vice President-Elect Kamala Harris will be sworn into office on the west front of the United States Capitol Jan. 20 at noon. Watch the inauguration live, below.
After they take their oaths of office, Biden will deliver the inaugural address. Following the inauguration ceremony, members of the military will present a Pass in Review before the President-elect, First Lady Jill Biden, Vice President-elect, and Second Gentleman Doug Emhoff on the east front of the U.S. Capitol.  Pass in Reviews are a long-standing military tradition of peaceful transfer of power to a new Commander-in-Chief.
Continue watching after 2 p.m. as the President-elect, Dr. Biden, the Vice President-elect, and Mr. Emhoff will visit Arlington National Cemetery to lay a wreath at the Tomb of the Unknown Soldier. They will be joined by President Barack Obama and Michelle Obama, President George W. Bush and Laura Bush, and President Bill Clinton and Secretary Hillary Clinton.
"Celebrating America," the primetime inauguration celebration hosted by Tom Hanks features remarks from Biden and Harris and includes performances. Gaithersburg's Cavanaugh Bell is expected to introduce Justin Timberlake. Watch the special at 8:30 p.m. live below: