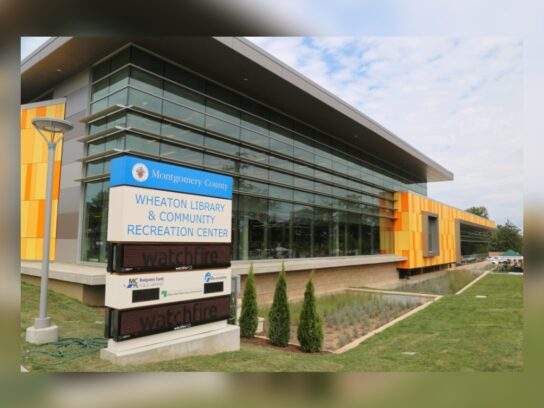 The Wheaton Library and Community Recreation Center celebrated its grand opening with a ribbon cutting ceremony on Sunday, September 8 at 2 p.m. 
The county planned several events for the grand opening weekend where hundreds of residents attended the new Wheaton Library, Community Recreation Center and Wheaton local park located at 11701 Georgia Ave. 
The facility is environmental-friendly and is equipped with green features including a vegetative planted roof and a high-performance mechanical and lighting system including LED lights, controls and sensors.  
The library includes over 63,000 books with materials for children, teens and adults. The building also includes collaboration rooms, smart TV's, quiet rooms and teen and children space.  
The Wheaton local park is a 2.3-acre playground. It includes a wide variety of attractions, a reading circle and structures the serve as musical instruments.  
Montgomery County Executive Marc Elrich stated  that the library has always been very important to him and the County's efforts to reinvigorate the area was a great approach to provide these services to the community all in one building. 
The combined complex offers unique features such as a reading room, a gym, an elevated track, a basketball court, computer labs, an arts and crafts room, a pottery room, a vendor cafe, a weight room, an upper level Social Hall, a children's library, a teen area, a used bookstore and a learning kitchen facility. 
The interim library closed in June 2019 once the $70 million project for the new library was confirmed.
Photos courtesy Montgomery County government:

Due to a facility issue the library's opening was delayed today until 12:30 p.m. 
Operating hours and program can be found on the Montgomery County websites.