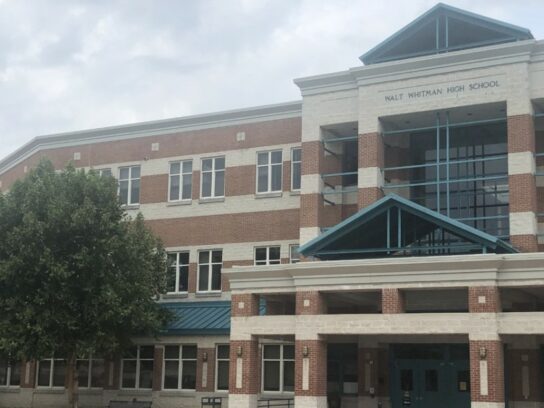 After its own high school newspaper called out Walt Whitman's Vike-A-Thon, a fundraiser that student journalist Eliana Joftus wrote has evolved into a night of casual hook ups with alcohol and drugs aplenty, Principal Robert Dodd canceled the event.
In a letter addressed to Whitman community members, Dodd wrote, "We were recently made aware of disturbing allegations involving the well-being of our students while attending past Vike-a-thon events by reporting from our student newspaper." Dodd said the allegations involved "bullying, harassment, and inappropriate and potentially unlawful behavior of a sexual nature. We are taking these allegations very seriously."
Vike-A-Thon is part of the student government's charity month effort. It raised $24,000 at its last event in February 2020, according to the student publication, the Black & White.
Dodd said he will speak with Montgomery County Police to make sure "an adequate investigation is conducted." He asked that any students who were impacted reach out for support.
Joftus, whose father Scott is the newest member of the Montgomery County Public Schools' Board of Education, interviewed several students who said they were sexually assaulted or grabbed against their will at previous Vike-A-Thons.
Joftus described the fundraising event as rave-style with tickets costing between $30 and $40 that takes place in the school's darkened gymnasium. It previously was a dance marathon known as bRAVE.
Joftus wrote, "At Vike-A-Thon, students often encourage their peers to hook up with as many other students as possible. Some attendees chase after hookup milestones including "cycling," in which a student hooks up with at least one person from each grade, as well as "pyramiding," when a person hooks up with four freshmen, three sophomores, two juniors and a senior throughout the night. Hooking up happens on other dance floors. Cycling, though, is the phenomenon that defines Vike-A-Thon for students."
In the article, she noted that all around the gym teenagers were coupling up or making out while others recorded the goings-on. She called for the end of Vike-A-Thon, saying it "represents a decade of disrespect, entitlement and the collective trauma that countless current and former students have from this dance."
In Principal Dodd's letter, he urged students who are aware of unsafe behavior to let school administrators know "so we can preserve the well-being of our students and school community." He stressed that "student safety is our first priority."
Congratulations to @bdubbsonline! "It's been 10 years too long. Vike-A-Thon needs to go." has just been published on Best of SNO! https://t.co/tdkytlejU5

— Best of SNO (@BestofSNO) March 10, 2022