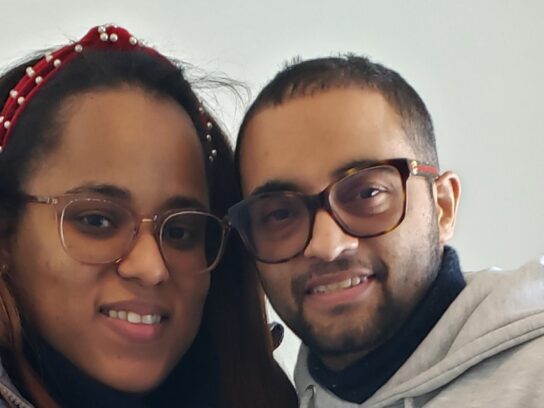 Sgt. Emmanuel "Manny" Melendez-Diaz, an Army veteran who was severely wounded while serving in Iraq, received the keys to a specialized home in Poolesville erected especially for him, thanks to Homes for Our Troops.
Melendez-Diaz, 40, had been serving in the 2nd Battalion, 2nd Infantry Regiment, 1st Infantry Division on a road clearance patrol in December of 2004 when his vehicle hit an improvised explosive device. He survived, but was left with intestinal damage and a collapsed lung. In March 2006, his right leg was amputated. He received a medical discharge from the Army in 2007.
Saturday morning, a dozen cars escorted Melendez-Diaz and his wife, Natibel, to their new home. They were greeted with flag-waving supporters, local legislators, boys and girls scouts and members of Jr. ROTC.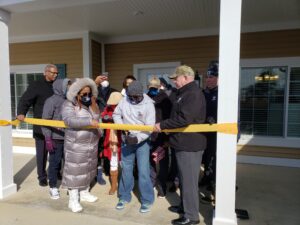 "It's been a long road," Melendez-Diaz said. "Honestly, I have no words."
In a heated tent that barely kept out the strong winds and cold temperature, those who fundraised and those who built the house, which is located near Poolesville High School, spoke of the need to continue supporting those who served in the military.
Homes for Our Troops' Shaquanta Bailey welcomed Melendez-Diaz and told him the home "was built with love. Let it be a place of peace and comfort."
Maryland Sen. Brian Feldman and Delegates Lily Qi and David Fraser-Hidalgo greeted the couple to District 15 from their current home in Hagerstown. Melendez-Diaz and his wife both were born and grew up in Puerto Rico.
Feldman said he hoped the specially-made home would "help restore your freedom and independence." It was built with more than 40 adaptions, including open areas and hallways and doors wide enough for a wheelchair to maneuver easily, a closet with a remote control to help him put away and retrieve his clothing and a huge bathroom. There are no stairs.
Melendez-Diaz partially chose to live in Poolesville to be closer to Walter Reed National Medical Military Center in Bethesda and Georgetown Hospital in D.C., where he continues to receive services.
During the ceremony, Melendez-Diaz was wrapped in a comfortable made for him by the Quilting Angels of Germantown. He also received a $500 gift card to Safeway for groceries from the Maryland Patriot Guard.
Poolesville Commissioner James Brown greeted the couple, declaring, "This is where you belong."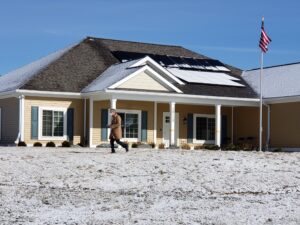 Homes for Our Troops is the moving force behind the construction of 326 homes across 42 states for those injured in the military since 9-11. Another 71 homes are in the process of being built, and more than 1,000 veterans are on a waiting list.
Homes for Our Troops President Bridgadier General Tom Landwermeyer told Melendez-Diaz, "We do not see you as a charity." Rather, it is everyone's "moral obligation" to help those who served this country, he said, adding, "We rebuild homes, but we build lives."
That is what the retired Army veteran is counting on. Melendez-Diaz envisions a future that includes never damaging walls with his wheelchair, cooking meals together with his wife, not skidding from room to room and maybe someday returning to the water to kayak.
In July of 2021, MyMCM was there for the groundbreaking.