MCM Youth Media Academy
MCM Summer Youth Media Academy applications are now closed!
If you would like to stay abreast of upcoming MCM media training opportunities for children and youth, join our mailing list by clicking here.
MCM Summer Youth Media Academy
Applications are now open for the 2021 MCM Summer Youth Media Academy. This  4-week session meets Monday-Friday from 3-5pm virtually via Zoom.
Youth ages 11-17 years-old learn the three stages of production through intensive field assignments using various free and low-cost editing and animation software for their desktop and mobile devices. Participants produce a podcast and short film, learn how to develop a web series and study the mechanics of photography.
MCM Summer Youth Media Academy Tuition: $400 for one 4-week session
For more information, email the Director of Education and Community Engagement, Dr. Khadijah Ali-Coleman at ece@mymcmedia.org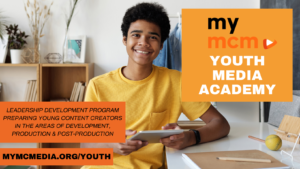 Frequently Asked Questions
Is the program in-person or virtual?
The program is virtual.
Where do I sign up?
There is an application process. You can apply here or below.
How soon will I find out if I am accepted?
Youth will be notified within a week if they are accepted. Those who are accepted must let us know within two weeks of acceptance if they plan to participate. They must register to reserve their space.
Is the application process competitive? How many spots are there?
There are 10 slots available per session* Small class size allows us to engage more fully with the youth participants and offer more one-on-one interaction. We want to keep our staff to student ratio low.
What are the session dates?
Session I: June 21-July 16
What will my child be doing during the program?
Media Skills Taught: Podcasting, Short Filmmaking with a Smartphone, Web series development and Photography
Leadership development, teamwork and time management skills are built along the way!
*Class size may be slightly bigger than 10 students, but will not exceed 15. We ideally want to keep them between 6-10 students, if possible.
MCM Youth Media Academy
During the school year, the MCM Youth Media Academy is an out-of-school time program that offers media instruction and leadership training to youth aged 13-17 years-old. Taught by Montgomery Community Media professionals, using an Advancing Youth Development (AYD) framework, MCM Youth Media Academy is designed to engage youth in quality media instruction tailored to their age group. On Tuesdays, starting in February 2021, MCM Youth Media Academy participants engage in media training that revolves around editing, shooting, producing, and development. On Thursdays, youth work on producing the youth-hosted show ArtsEnPower which airs on cable-access television channel 21 on Mondays at 4:30 pm.
MCM Youth Media Academy meets on Tuesdays and Thursdays from 3 pm to 5 pmvia Zoom. The program fee is $200 for 8-weeks (Feb. 9, 2021 to April 1, 2021). (MCM members receive a $25 discount). Scholarships are available for those with financial needs. Homeschooled and Montgomery County public school students who participate in our media academy will be invited to earn their SSL hours working on ArtsEnPower.
Check out MCM Youth Series, "ArtsEnPower":

ArtsEnPower is a youth-produced tv series that focuses on the ways that creative people use their artistry to enhance their community. This show is produced by students ages 13-17 participating in MCM Youth Media Academy. ArtsEnPower airs on MCM cable television channel 21 on Mondays at 4:30 PM and "MCM's YouTube channel.
Hear from MCM Youth: