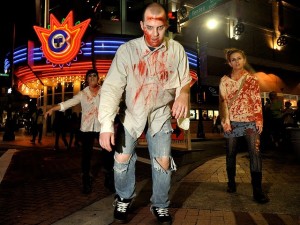 Outrageous Halloween costumes are encouraged at the annual Zombie Walk on Oct. 29. The event is free and family-friendly according to the Silver Spring Urban district website.
Participants will meet at Denizens Brewing Company located at 1115 East-West Hwy. Prior to the walk, there will be music, face painting, and a costume contest. At 8 p.m., participants will go over the pedestrian bridge on Georgia Ave. to Ellsworth Drive for a zombie parade and dance party with a DJ. The event will conclude at 10 p.m. according to the Downtown Sliver Spring's website.
To keep up the Halloween spirit, participants are encouraged to see a Halloween movie at AFI Silver Theatre and Cultural Center. A Nightmare On Elm Street will be shown at 7 p.m. and The Rocky Horror Picture Show at 10 p.m. The theatre is located at 8633 Colesville Rd and they can be reached at 301-495-6700
For more information about this event, visit https://www.facebook.com/events/1941514429369750?ref=newsfeed.