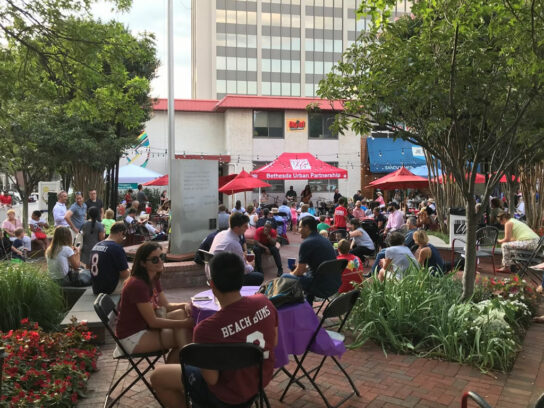 Summer comes to Montgomery County offering  music, movies and other amusements.
Go to Wheaton to catch their TGIF Summer Concert Series at the Marian Fryer Town Plaza at 2424 Reedie Drive. The music starts at 6:30 p.m. TGIF keeps rockin' until September 24.
Bethesda is the place to be on Friday nights for live music at the Streetery at the corner of Norfolk and Del Ray Avenues. Arrive at 6 p.m. and stay for the tunes. Bethesda Urban Partnership will feature live entertainment through September.
You can find Movies Under the Stars at Blackrock Center for the Arts in Germantown. Make plans to see Coco on Saturday, August 31 at 8:30 p.m. Other upcoming films include Hairspray and Shrek
Get on the merry-go-round at Carousel Family Day at Glen Echo Park this Saturday, July 24, from 10 a.m- 3 p.m. You can hop on the famed 100-year-old  ride serenaded by live music from the Washington Conservatory of  Music. Buy your tickets here. And don't miss other sights and sounds of the park including painted pianos and a musical magic show.
Family – friendly concerts pop up at the Good Hope Neighborhood Recreational Center in Silver Spring. Pull up a blanket starting Saturday at 5 p.m. To  get tickets to The Bloom Community Events sponsored by Strathmore Hall click here. The series continues every Saturday until October 9.