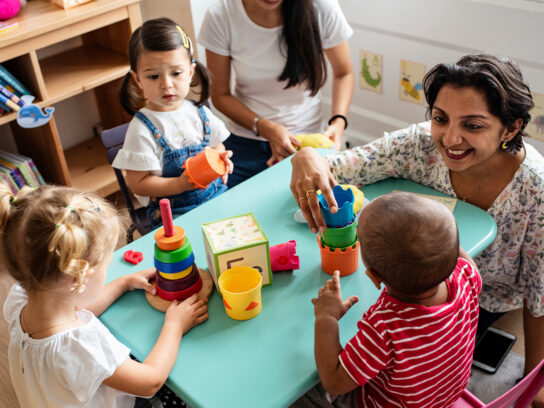 While child care businesses in Montgomery County continue to suffer financially from COVID-19, a newly introduced special appropriation could provide the industry with funds to reopen.
Montgomery County councilmembers Nancy Navarro, Hans Riemer and Andrew Friedson introduced a special appropriation of $10 million in an effort to assist child care businesses suffering financial losses due to the coronavirus pandemic.
"Without public investment and support, licensed, quality child care in Montgomery County is not sustainable under the current recovery requirements," Navarro tweeted on Tuesday.
The special appropriation would offer reopening expenses for licensed child care center programs, registered family child care homes and letter of compliance programs, according to the official staff report. The appropriation also aims to help child care industries regain losses due to COVID-19.
"Child care is an essential service to support families as they return to work and is critical to the County's economic recovery," Navarro also tweeted. The expenses would give priority to specific programs, such as those that serve low-income families or cater to certain ZIP codes with lower levels of child care availability.
Child care businesses would receive a maximum grant amount of $75,000 for a single site, $150,000 for two or three sites and up to $300,000 for four or more sites, according to the official staff report. Funding targets include $6,500,000 to support licensed child care centers and letter of compliance programs and $3,500,000 to support registered family child care homes.
The Council's Health and Human Services Committee and Education and Culture Committee will review the special appropriation on June 11. The council will hear public testimonies and vote on June 16.  
For more information, visit http://content.govdelivery.com/accounts/MDMONTGOMERY/bulletins/28fdfad?reqfrom=share.
The Council introduced a special appropriation of $10 million to provide reopening expenses for licensed childcare center programs, registered family childcare homes & letter of compliance programs. CMs @nancy_navarro, @hansriemer & @Andrew_Friedson are the lead sponsors. pic.twitter.com/ejjHVvPHds

— Montgomery Council (@MoCoCouncilMD) June 10, 2020