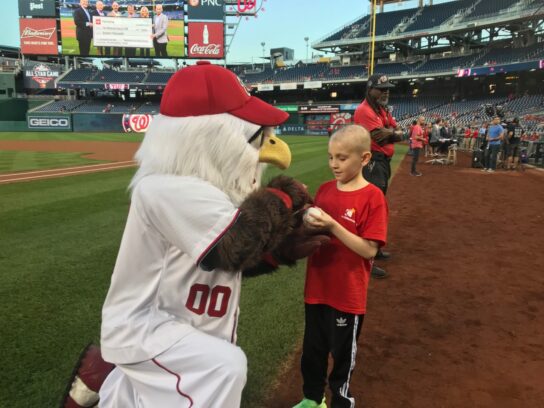 A 10-year-old boy who has been living with leukemia for half of his life threw the first pitch at the Nationals home game on Wednesday night.
Edu of Houston, Texas has been battling leukemia since he was 5 years old and is currently being treated in a cutting edge Car T-cell therapy clinical trial at the National Cancer Institute at NIH.
The Children's Inn at NIH provides lodging for kids while they undergo clinical trials at NIH. Children from across the U.S. and the world stay at The Children's Inn at NIH for free and get to participate in activities that uplift their spirits – like the Nats game.
Edu and his family have been going to the NIH and The Children's Inn for many years. His cancer recently returned.
Despite better treatments, cancer continues to be the number one cause of death by disease for children. Officials with the Children's Inn at NIH say participating in clinical trials is one avenue for children to help find new and improved existing treatments for childhood cancer. September is Childhood Cancer Awareness Month.
The first pitch was made possible by Washington Area Toyota Dealers, which has been donating $50 per strikeout to The Children's Inn and presented The Inn with a $70,000 check to help provide free lodging and support services to more children like Edu whose best hope is a clinical trial at NIH. The Children's Inn is a nonprofit that provides free housing and supportive services to more than 1,700 children and their families a year with serious and rare diseases. Washington Area Toyota Dealers have been supporting The Children's Inn at NIH through K's for Kids for eight years, raising more than $350,000 for children and families at The Inn.
A large number of Children's Inn kids and their families were also at the game to support Edu. Several of them had a chance to go on the field with Nats players during the singing of the National Anthem.
https://www.instagram.com/p/B24xo7Ah2PJ/?utm_source=ig_web_copy_link