100-Year-Old Refrigerator Causes Chemical Leak in Rockville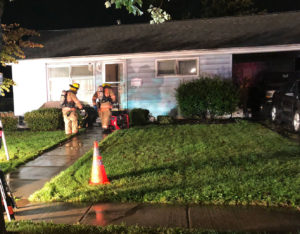 Montgomery County firefighters responded to a chemical leak Sunday evening in Rockville caused by a refrigerator from the 1920s.
Occupants of a single-family home were moving an old refrigerator in the basement when the coolant began to leak, according to Montgomery County Fire and Rescue Service (MCFRS) Chief Spokesman Pete Piringer.
First responders evacuated the three people in the home located in the 1900 block of Lewis Avenue. The residents were evaluated, and it was determined that they had not suffered any injuries or illnesses. The Hazardous Materials (HazMat) unit responded to the scene and further assessed the 1920s-era refrigerator upon entry.
Several firefighters were evaluated for potential exposure to the unknown chemical, later believed to be sulfur dioxide, according to Piringer. Two firefighters were transported to the local hospital as a precaution.
"Sulfur dioxide, an old-timey refrigerant, absorbs a lot of heat in evaporation & dissolves oil well, but it's toxic & (somewhat) reactive," said Piringer in a tweet. "70-80 years ago, SO2 was used in one of the earliest electric refrigerators. It's not used today because of toxicity concerns."
The HazMat team removed the refrigerator, and the home was ventilated. MCFRS has not provided any further updates at this time.
Update – 1900blk Lewis Av, @mcfrs HazMat crew making entry to house, dozens of @Mcfrs FFs remain on the scene, several FFs were evaluated & 2 (initially exposed to unknown chemical) were transported as precaution pic.twitter.com/77YH1lZcFF

— Pete Piringer (@mcfrsPIO) October 12, 2020