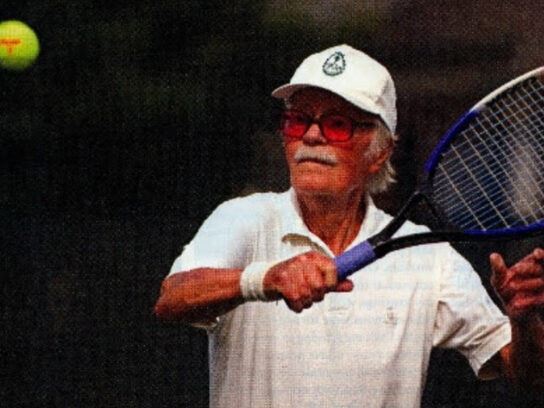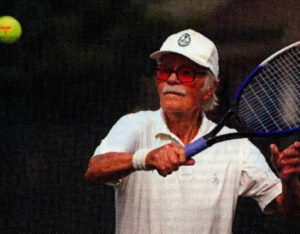 Doyle Royal, a legendary tennis figure in the area, died at the age of 101. The Washington, D.C. native and longtime Bethesda resident lived a full life as a championship-winning soccer and tennis player and coach and World War II hero.
Royal was the oldest Edgemoor Club member and spent a great deal of time at the Bethesda tennis club. He was referred to by fellow club members as "the coach." He was an accomplished junior tennis player before being recruited in 1939 by the University of Maryland's head tennis coach. He played on both the tennis and soccer teams there from 1939 to 1943.
He served with distinction during World War II. He was a Second Lieutenant in the U.S. Army's 90th Infantry Division. Prior to the Battle of the Bulge, he was wounded while single handedly destroying a German tiger tank, for which he was awarded the Silver Star and a Purple Heart. He also won the Combat Badge. He retired from the Army Reserve at the rank of lieutenant colonel, according to information from the Edgemoor Club.
He received the Silver Star for gallantry in action against an armed enemy while in France.
After the war, he returned to the University of Maryland as the men's head soccer and tennis coach. He was Maryland's first men's soccer coach, serving in that job from 1946 until 1973. He had an amazing .771 win record and an .866 winning record in Atlantic Coast Conference competition. He led Maryland to the 1968 National Championship, tying Michigan State to share the national title. Throughout his tenure, Maryland won 17 Atlantic Coast Championships and the ACC title each year from 1953 to 1968.
He also led the Terrapin soccer team to three Southern Conference championships.
Royal also was the college's head tennis coach from 1954 to 1980. His teams earned 296 wins, 114 loses and one tie. He led his teams to two Atlantic Coast championships, in 1957 and 1964.
In recognition of his winning efforts, he was inducted into the University of Maryland Athletic Hall of Fame in 1988. Doyle also was Maryland's Assistant Dean of Men for 35 years.
Besides coaching, Royal played competitive tennis throughout the country, competing in every age group for 85 years. He won a bronze medal at the World Olympic Senior Singles tournament when he was in his mid-sixties.
In May of 2019, Royal was honored by fellow members at Edgemoor (see below) and surprised with a championship ring – given by current Maryland soccer head coach Sasho Cirovski – that he never received for winning the 1968 soccer co-national championship.
According to his family, Doyle passed peacefully in his sleep Monday night at the age of 101.  He was preceded in death by his wife, Loraine Bishop Royal, and his son Doyle Jr (Derry) with whom he lived and traveled for many of the last 20 years. Royal is survived by daughter Lisa (Greg) Butterfield and granddaughter, Alexandra Butterfield.
He continued playing tournaments well into his eighth decade, even winning in 1999, the United States Tennis Association Mid-Atlantic Men's 80+ singles title on clay and the USTA Maryland Outdoor 80+ and 85+ singles championships in 2001 and 2008, respectively.
He became a life member of the Edgemoor Club in 2013, thanks to a vote by its board. He first joined the club in 1946 when it only had two tennis courts. He was famous there for being able to spot and encourage talented young players.
Previous Post
https://www.mymcmedia.org/a-royal-celebration-for-100-year-old-coaching-legend/