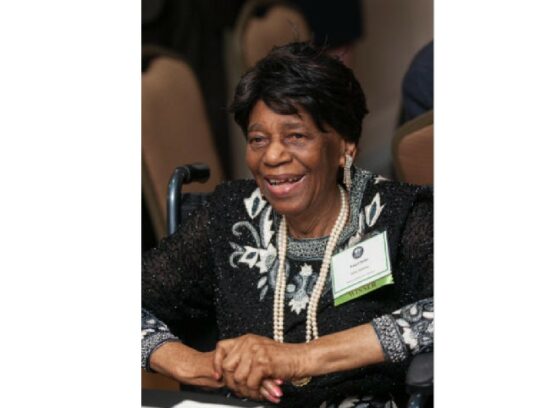 103-Year-Old Nina Clarke, Teacher in County's Segregated and Integrated Schools, Remembered as 'A Phenomenal Woman'
Nina Honemond Clarke, the granddaughter of enslaved families and a Montgomery County teacher in both segregated and integrated schools, died March 4 at the age of 103.
"She was a phenomenal woman," said Rev. Jane Wood, who knew Clarke all her life and is a close friend of her daughter, Camille Battle.
Besides being a teacher and a principal, Clarke was an author, a model for Barbizon Modeling and a member of a dance troupe at the Rockville Senior Center. She even had a walk-on part in the movie "Airplane."
"I admired her tenacity, her dignity," Wood said. "I became her pastor. Even though she knew me as a young child, she respected me as as her pastor." Wood retired two years ago from Jerusalem Mt. Pleasant United Methodist Church in Rockville and currently is the interim pastor at St. Paul United Methodist Church in Chevy Chase.
Clarke was born on Nov. 13, 1917 and grew up in Dickerson, the ninth of 11 children, according to her obituary from Snowden Funeral Home in Rockville.
She graduated from Rockville Colored High School in 1934 and received a degree in elementary education in 1942 from Hampton Institute. She later went on to earn a master's degree from Boston University and took postgraduate courses at American and George Washington University.
She started her teaching career in several county Black-only elementary schools.
When the 1954 Brown v. Board of Education ended segregation in public schools, she became one of the first African Americans to teach white children in Montgomery County. Eight years later, the Board of Education named has as the first Black teacher specialist in reading and language arts. She next became principal at Aspen Hill Elementary School in Rockville in 1968. She retired in 1973, after working 36 years in the Montgomery County Public Schools.
She spent her retirement researching African American history, and coauthored "A History of the Black Public Schools of Montgomery County, Maryland 1872-1961." She also wrote about Black churches in Maryland and Washington, D.C. and about her own family history.
According to Montgomery Preservation, "This extraordinary teacher never quit learning.'
"Nina Clarke was a force for Black education and shared her experiences and insights freely without blame or rancor. She spoke to local history groups and wrote about Montgomery County's African American schools and churches, the heart of most communities. She described for us the struggle to live and work here despite the barriers of discrimination. At her talks, often given while in a rocking chair surrounded by youngsters, listeners wondered how anyone could deny this intelligent, beautiful, dedicated woman who loved and embraced education for all. Montgomery County benefited from her lessons of a hopefully bygone day," according to an obituary on Montgomery Preservation's website.   
Clarke received the Montgomery County Award for Lifetime Achievement in Heritage Education "for her leadership, and for her oral and written histories of a time when your skin color mattered more than your dedication and contributions."
She also was honored by Peerless Rockville on her 100th birthday.