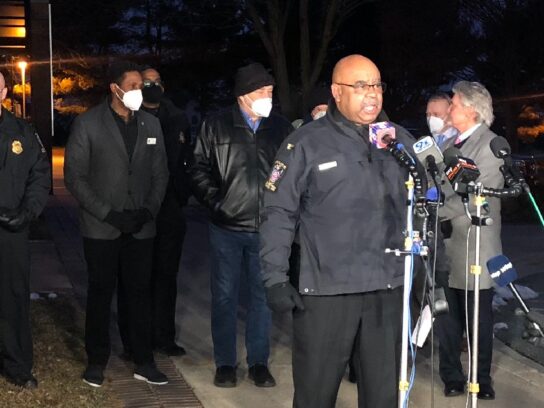 Steven Alston Jr., an 11th grade Magruder High School student, is charged with attempted second degree murder, first degree assault and other charges in connection with the shooting of a 10th grade student at the school in Derwood on Friday.
Alston was located in a classroom and taken into custody. He is being charged as an adult and is being held without bond, according to Montgomery County Police.
Police said there is no evidence to suggest that Alston targeted anyone else in the school. The gun that was found in the investigation was a ghost gun, meaning it was not registered and had no serial number.
According to police, they received a call that a 15-year-old male student was found in a student bathroom by school security. He was suffering from a gunshot wound. He was transported to the hospital where he underwent surgery and currently is in stable condition.
The school was in full lockdown, beginning at 1:05 p.m., and continuing for several hours. The Montgomery County Sheriff's department, along with SWAT, assisted in securing and searching the building. MCPD detectives worked simultaneously to investigate leads and identified a suspect.
Alston also is charged with use of a firearm in the commission of a felony/violent crime, possession of a dangerous weapon on school property and possession of a firearm by a minor.
The investigation is ongoing.
A 17-year-old Magruder High School Student is in custody following a shooting at the school on Friday, January 21, 2022.#MCPD #MCPNews https://t.co/U5pPzSAksI pic.twitter.com/9hYnHhIjtG

— Montgomery County Department of Police (@mcpnews) January 22, 2022