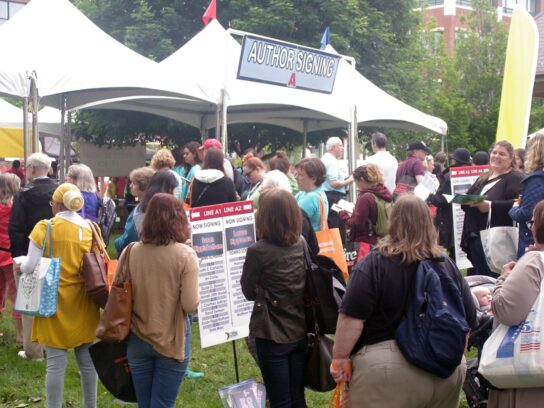 The Gaithersburg Book Festival returns this spring and for the first time in three years, it will be held in person. The all-day literary festival takes place May 21 from 10 a.m. to 6 p.m. at Bohrer Park at Summit Hall Farm, located at 506 S. Frederick Avenue in Gaithersburg.
The festival was held on the grounds of City Hall for many years, but the city announced in 2019 the festival would move to the Bohrer Park location to make room for the construction of a new municipal center. The pandemic interrupted those plans and the festival took place virtually in 2020 and 2021.
The 13th annual festival will again bring more than 130 award-winning and best-selling authors to Gaithersburg. The festival will include writing workshops for children, teens and adults, new and used book sales, exhibitors, entertainment and food, as well as the popular Children's Village, featuring activities and storytime.
Free writing workshops will be available for adults and children. Workshop topics include learning about writing memoirs, fiction, poetry, and creative writing in English or Spanish.
Workshops are available on a first-come, first-served basis and will be held in the Adult/Teen Workshop tent.
Come to #GBF on 5/21 & take part in our FREE writing workshops for adults & teens, all led by professional writers and educators.

Details: https://t.co/LfA6van0GS

Pro tip: get to the Festival early. These are all first-come, first-served.

— Gaithersburg Book Festival (@GburgBookFest) April 16, 2022
Gaithersburg Book Festival Workshops for Adults (aged 16+)
Click the title for more information about each workshop.
How to Self-Publish Your Work in Multiple Formats This session will focus on how to create e-books, paperbacks and audiobooks. This workshop includes the steps for self-publishing.
Presented by Alice Langholt
10 – 10:50 a.m.
Learn Character, Learn Voice This workshop will explore how elements like rhythm, life experience and word choice play into creating a distinct character voice that becomes the soul of the story.
Presented by Leah Henderson
11 -11:50 a.m.
Capturing Your Story: The Art of the Memoir   Participants will explore strategies for identifying significant themes and anecdotes from their life, then molding them into a coherent whole.
Presented by John DeDakis
Noon – 12:50 p.m.
How to Submit Short Writing for Publication Learn what tools and resources exist to help you on your journey to publication in this informative workshop for writers who want to begin their paths to publication in literary journals or magazines.
Presented by Arthur Klepchukov
1 – 1:50 p.m.
Escribiendo inicios y fronteras (Writing Beginnings and Borders) Durante este taller los escritores podrán tener la oportunidad de leer fragmentos de prosa y poesía para practicar inicios y escribir sobre fronteras. El objetivo es salirnos de lo cotidiano  y jugar con la belleza del lenguaje.
Note: This workshop will be conducted in Spanish for writers who write in Spanish
Presented by Ofelia Montelongo
2 – 2:50 p.m.
Write & Recite Poems The presenter will explain the use of metaphors, similes, onomatopoeia and other techniques that help make writing clearer, richer and more vivid, and will give pointers for reading aloud and managing nervousness. A teen poetry slam takes place following the workshop.
Presented by Joy Jones
3 – 3:50 p.m.
Build a Writing Practice that Works Learn how to create a sustainable writing routine in this workshop led by a certified professional coach. The group will discuss goals, obstacles to success, bust some myths that hold writers back and take note of some common pitfalls. Leave with a renewed commitment to your work and a strong plan to put in place.
Presented by Melanie Figg
4 – 4:50 p.m.
Adult/Teen Workshop Tent
Writing a Picture Book: 6 Essentials!  Aspects essential to creating a picture book will be reviewed. Attendees may bring their manuscripts and ideas–if there's time, the instructor will give you feedback.
Presented by Carla Mae Jansen
5 – 5:50 p.m.
Gaithersburg Book Festival Location
Bohrer Park at Summit Hall Farm is home to an indoor activity center, a miniature golf course, skate park and water park. The park has more than 50 acres of open parkland which provides more than ample space for the growing festival.
The park is conveniently located along Md. 355, next to Gaithersburg High School. Free festival parking will be available throughout Olde Towne, located just a few blocks from Bohrer Park, and free shuttle service from the Shady Grove Metro Station and Lakeforest mall will be available.