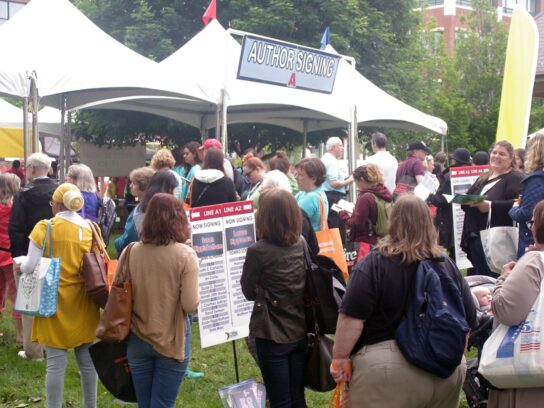 The 2020 and 2021 Gaithersburg Book Festivals will move from the City Hall grounds to Bohrer Park at Summit Hall Farm.
The festival needs the new location for at least the next two years because of construction of an office building in Olde Towne Gaithersburg. The building on South Summit Avenue will become a new municipal center, housing the city's Police Department and council chambers.
"We are fortunate that Gaithersburg offers many wonderful parks that can provide the idyllic setting that we've come to expect for our annual book festival," Gaithersburg Mayor Jud Ashman said in a statement.
"While we must move from the grounds of City Hall for a couple of years while the new city facility is built, Bohrer Park is in close proximity to Olde Towne and offers many amenities for our attendees to enjoy," Ashman said.
Ashman is founder of the festival.
Bohrer Park, 506 S. Frederick Ave., Gaithersburg, is home to an indoor activity center, a miniature golf course, skate park and water park, and has more than 50 acres of open parkland, providing ample space for the growing festival.
It is conveniently located along Md. 355, next to Gaithersburg High School. Free festival parking will be available throughout Olde Towne, located just a few blocks from Bohrer Park, and free shuttle service from the Shady Grove Metro Station and Lakeforest mall will continue to be available.
The 11th annual festival takes place Saturday, May 16, 2020, and will again bring more than 100 award-winning and best-selling authors to Gaithersburg. The festival also will include writing workshops for children, teens and adults, new and used book sales, exhibitors, entertainment and food, as well as the popular Children's Village, featuring activities and story time.