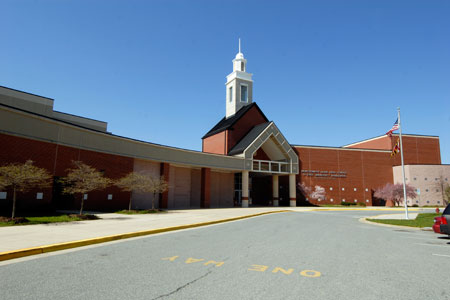 The National Merit Scholarship Corporation announced the semifinalists in the 2023 competition Sept. 14. 147 Montgomery County Public Schools (MCPS) students were named National Merit semifinalists. The semifinalists will now go on to compete nationally for scholarships that will be awarded in the spring.
The schools with the most finalists are Montgomery Blair (48), Richard Montgomery (24), Winston Churchill (18), Poolesville (16), and Walt Whitman (11).
The MCPS semifinalists come from 13 high schools, including Bethesda-Chevy Chase, Col. Zadok Magruder, Northwest, Sherwood, Springbrook, Walter Johnson, Wheaton, and Thomas S. Wootton.
Semifinalists were selected from among high school juniors who were top scorers on the 2021 PSAT/National Merit Scholarship Qualifying Test. Approximately 16,000 semifinalists across the nation will be considered for advancement to the finalist stage of the competition.
Finalists will be considered for $2,500 National Merit scholarships, plus additional corporate-sponsored and college/university-sponsored scholarships that will be announced later in the school year.
In 2022, MCPS had 231 National Merit semifinalists.
The MCPS semifinalists are:
Bethesda-Chevy Chase High School
Vince Csajbok
Nicholas W. Daum
Henry Fairbanks
Samuel G. Lev
Max B. Posner
Montgomery Blair High School
Benjamin Broderick-Sokol
Justin E. Chen
Travis Y. Chen
Kaden K. Chien
Nathan T. Cho
Elizabeth E. Chu
Areeb F. Gani
Annie M. Gao
Julia A. Gelfond
Anna X. Gu
Megan Y. Gu
Joshua Hsieh
Claire J. Hwang
Michael C. Ilie
Melisa J. Kalayoglu
Srihari K. Kompella
Elina Y. Lee
Katalina N. Li
Sean Li
Brianna J. Lin
Eileen Luo
Jonah S. McDonald
Anushka Poddar
Autumn T. Qiu
Anika Rai
Kevin Rha
Nathan Z. Shan
Vijay R. Shanmugam
Ellen K. Shepherd Johnson
Andrew K. Szabo
Milan A. Tenn
Grace M. Thomas
Solomon N. Ucko
Charles H. Wajda-Gotwals
Eric X. Wang
Joshua Wang
Jonah M. Witte
Evan C. Wu
Kevin J. Wu
Claire N. Xu
Jiayie K. Yang
Kevin Y. Yao
Tong Tong G. Ye
Elizabeth R. Yuan
Kevin G. Zhang
Maggie Zhang
Caleb Y. Zhao
Frederick O. Zheng
Winston Churchill High School
Joshua R. Cheng
Anthony T. Chung
Ilayda Dogan
Allison O. Fan
Emily Huang
Nathan X. Li
Jason L. Liu
Tej Mehta
Roman P. Messali
Kevin Qi
Yucheng J. Shao
Elyssa L. Shenker
Elton T. Wang
Nathaniel L. Wu
Eric Yao
Maxwell Z. Ye
Andrew B. Yu
Todd Y. Zhou
Walter Johnson High School
Daniel M. Avillo
Logan L. Devoe
Silas O. Hultman
Joseph Kim
Hana E. Lee
Eliazar Q. Montemayor
Emily E. Paranzino
Jacqueline A. Ragheb
Ella Tzeng
Col. Zadok Magruder High School
Julia E. Perkins
Northwest High School
Mallige Anand
Poolesville High School
Shubham Bhatnagar
Sarah L. Cho
Meredie E. Cohen
Caleb J. Dastrup
Brian A. Hoff
Brandon M. Kim
Haram Kim
Sophia A. Liang
Anya S. Olson
Anjan S. Sesetty
Rohin R. Shah
Saatvik R. Soma
Miranda L. Wang
Isabel Wu
Roc G. Yu
Andrew Z. Yuan
Richard Montgomery High School
Madeleine L. Ache
Shairee N. Arora
Daniel G. Coxson
Arun A. Crispino
Emily T. Duan
Matthew J. Gu
Finna Y. Hsu
Ishaan Jain
Jake Lee
Crystal C. Li
Kelly N. Namara
Tanya Paul
Melody Qian
Saahil M. Rao
Sevan P. Seltzer
Evelyn L. Shue
Brian M. Siegel
Jessica K. Sun
Ruth Y. Taddesse
Gwendolyn J. Taylor
Christian G. Testa
Lilian J. Wang
Paris Z. Ye
Lindsey Zhang
Sherwood High School
Allen K. Baxter
Matan C. Meltzer
Springbrook High School
Daniel T. Quach
Wheaton High School
Hudson Tao
Walt Whitman High School
Kabir M. Broker
Alexander G. Campbell
Jake A. Hawks
Jayden C. Ku
Max D. Ohm
Eleanor H. Pugh
Julia G. Rychlik
Isabel J. Sachs
Ethan D. Schenker
Benjamin J. Waterman
Justin Yang
Thomas S. Wootton High School
Grace L. Chen
Claire Deng
Ally M. Guo
Jonathan J. Kwak
Michael S. Li
Jackson J. Rankin
Stacy K. Sun
Yushin Wang
Ethan Wong
Byron Y. Wu