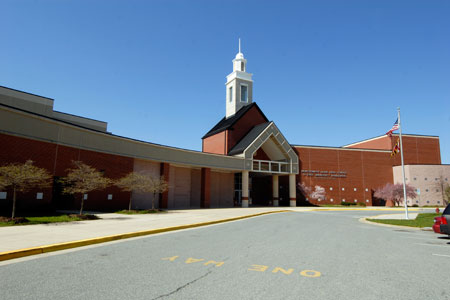 The National Merit Scholarship Corporation (NMSC) announced the semifinalists in the 2024 competition Wednesday. 186 Montgomery County students, in both public and independent schools, were named National Merit semifinalists. They will now go on to compete nationally for scholarships awarded in the spring.
162 Montgomery County Public Schools (MCPS) and 24 independent school students were named National Merit semifinalists.
Semifinalists were selected from among high school juniors who were top scorers on the 2022 PSAT/National Merit Scholarship Qualifying Test. More than 16,000 semifinalists across the nation will be considered for advancement to the finalist stage of the competition.
Finalists will be considered for $2,500 National Merit scholarships, plus additional corporate-sponsored and college/university-sponsored scholarships that will be announced later in the school year.
Public School National Merit Semifinalists
The public schools with the most semi-finalists are Montgomery Blair (41), Richard Montgomery (29), Winston Churchill (21), Poolesville (20), and Walt Whitman (18).
The MCPS semifinalists come from 14 high schools, including Bethesda-Chevy Chase, Clarksburg, Damascus, James Hubert Blake, Montgomery Blair, Northwest, Poolesville, Richard Montgomery, Rockville, Walter Johnson, Walt Whitman, Wheaton, Winston Churchill, and Thomas S. Wootton.
In 2023, MCPS had 147 National Merit semifinalists.
The MCPS semifinalists are:
Bethesda-Chevy Chase High School
Eli H. Buehler
Lucas Das
Jeffrey L. Olsen
Clarksburg High School
Yalini Anbalagan
Zoe H. Tavares
Damascus
William S. Lee
James Hubert Blake
Conrad N. Blom
Montgomery Blair High School
Joshua A. Brown
Michael Z. Chen
Yuna Chun
Andy G. Cui
Jonathan M. Fan
Uriel Y. Frumkin
Nathan Z. Gehl
Solomon M. Gold
Mandy Y. Guo
Daniel H. He
Christopher Q. Jin
Jerry S. Jing
Nicholas P. Khil
Dami Kim
Jacen T. Li
Alexander Liu
Derek P. Mu
Matthias R. Nigmann
Elliott C. Paschane
Joshua O. Piety
River T. Qiu
Angela Y. Shen
Leila S. Simons
Viveka Sinhaa
Rihalya Sivakumar
Matthew M. Slagle
Erik Sofiaj
Jerry H. Song
Sarah A. Stone
Sudhish M. Swain
Reed R. Sweraingen
Colby J. Trenor
Evan Z. Wang
Michael X. Wang
Steven Y. Wang
Isak J. Wilson
Angela Y. Wu
Sean Xie
Andy Ying
Sophia L. Zeng
Lipeng Zhu
Northwest High School
Dwarakesh Baraneetharan
Anthony J. Wang
Poolesville High School
Vaishnavi Banda
Lahari Bandaru
Neel Bhattacharyya
Nathaniel C. Chen
Daisy B. Dastrup
Patrick T. Foley
Anil T. Ghosh
Ronan G. Graff
Leavy Hu
Soumya P. Jailwala
Aditya Lahiri
Amy A. Le
Jasmine Q. Li
Daniel Mathew
Elizabeth. C. Newton
Aidan H. Paul
Nora E. Rudmann
Andrew W. Sha
Milo A. Stammers
Emma Y. Zou
Richard Montgomery High School
Advika Agarwal
Sandral O. Baigal
Maximilian P. Belyantsey
Marissa C. Boucher
Zaida M. Bowsher
Joseph Chen
Daniel Chernyak
Catherine W. Chong
Charlyn C. Chu
Carolyn L. Conner
Anson Cook
Samwit Dangol
Nitya Donthi
Sofia G. Eisenberg
Joshua W. Fan
Joy Y. Jiang
Lucas Kang
Georgia Levine
Han Lin
Daria K. Melikova
Katherine E. Pease
Oluwatomisin Tiam Fotie
Hadassah N. Ucko
Kidus N. Walelign
Angelina Xu
Claire J. Xu
Alexander C. Yeung
Grace J. Young
Michelle Yu
Rockville High School
Avraham Y. Logan
Maximilian G. Pankowski
Walt Whitman High School
Waleed M. Aslam
Daniel Berglund
Diya Bhattacharjee
Pedro B. Bolle
Thomas L. Forney
Madeline H. Kaltman
Jacob D. Lerman
Timothy J. Lindstrom
Rowan J. Lodato
Brian K. Mason
William P. Mayo
Arjun R. Mohan
Anthony J. Noya
Emily S. Owens
Avery A. Tsao
Samantha F. Walker
Harrison J. Walley
Amy M. Xu
Walter Johnson High School
Charles J. Brenner
Carol Li
Tariq R. Merchant
Mauricio Sanchez Toral
Nathan H. Tang
Colin R. Tierney
Jasmin D. Wu
Allison Xu
Daniela K. Znam
Wheaton High School
Menelik G. Mekonen
Winston Churchill High School
Raza W. Ahmad
Angie Chen
Sabrina Chou
Pavani Durbhakula
Elise L. Huang
Ha-Yeon Jeon
Bernard L. Jin
Soham G. Jinsi
Jonah I. Kerchner
Jaehee Lee
Simran N. Mattikalli
Lara M. Najjar
Alvia Naqvi
Kevin C. Peng
Henry Shan
Ty Sun
Auva Vaziri
Kevin Xue
Roy K. Yang
Abigail Zhang
Allison Zhang
Thomas S. Wootton High School
Aylin E. Aarhus
Shreyas Bachu
Digonto K. Chatterjee
Rhea Chelar
Anthea L. Chu
Carolyn Fu
Yusuf A. Hasan
Samantha M. Lau
Michael N. Lipari
Jeffery Z. Liu
Arjun N. Ram
Alex Ye
Independent School National Merit Semifinalists
There are 48 independent high schools serving 13,796 students in Montgomery County, according to the Private School Review. Twenty-four students in 11 independent high schools were named NMSC semifinalists.
The independent schools with  semi-finalists are the French International School, Holton-Arms School, Landon School, Stone Ridge School of the Sacred Heart, Georgetown Preparatory School, Our Lady of Good Counsel High School, Bullis School, Heights School, Melvin J. Berman Hebrew Academy, Charles E. Smith Jewish Day School, and the Sandy Spring Friends School.
The semifinalists attending an independent high school are:
French International School
Daniel P. Pressman
Holton-Arms School
Lila P. Brody
Claire E. Buichanan
Alicja B. Mazurkiewicz
Julia M. Ryan
Anneka P. Zimmerman
Landon School
Thomas E. Shelton
Stone Ridge School of the Sacred Heart
Clare Osberg
Georgetown Preparatory School
Joseph T. Allston
Yiming Han
Ethan F. Ristu
Carson A. Stokes
Our Lady of Good Counsel High School
Ella J. Cauchi
Samantha P.  Morin
Sarah A. Siegle
Bullis School
Nathan L. Chen
Ashley L. Hays
Heights School
Daniel D. Kim
Melvin J. Berman Hebrew Academy
Raphael I. Sloan
Charles E. Smith Jewish Day School
Ari B. Howell
Daniel I. Schlactus
Gabriella T. Simon
Jordyn M. White
Sandy Spring Friends School
James C. Albertine