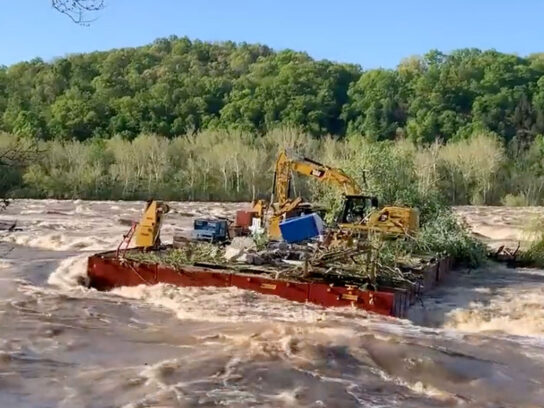 Two construction barges broke loose in the Potomac River and floated to the Harper's Ferry, West Virginia area Sunday, according to the Loudoun County Sheriff's Office on Twitter.
The sheriff's office also tweeted its concern for bridges in the surrounding area but all bridges between Loudoun County and Maryland remained open.
Never a routine day in #Loudoun. LCSO has been coordinating w/ MD authorities after two barges became loose in the Potomac River & there was concern they could impact area bridges. At this time the barges are no longer moving down river & remain static in Harpers Ferry area. 1/2 pic.twitter.com/nIwMQWQw4k

— Loudoun County Sheriff (@LoudounSheriff) May 8, 2022
Bystanders uploaded pictures and videos to social media, which feature one barge getting stuck on a dam just before Harper's Ferry.
This is the moment it got stuck on the dam.

Video: @RiverRiders pic.twitter.com/4ciJVOktUz

— Van Applegate (@vbagate) May 8, 2022
Drone footage by Elizabeth Ricketts on Facebook show the barge carrying construction items like an excavator.
The second barge got stuck in Shepherdstown, West Virginia below Dam 4, according to WTOP.
Photo credit Loudoun County Sheriff's Office on Twitter.