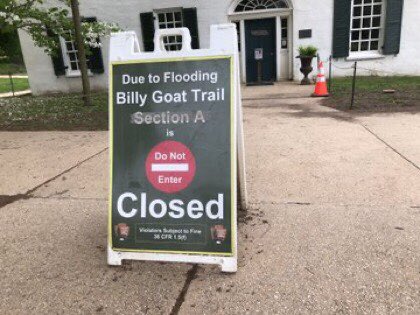 Great Falls Park closed the Billy Goat Trails on Sunday due to flood warnings along the Potomac River, according to Montgomery County Fire and Rescue spokesperson Pete Piringer.
Flooding at White's Ferry was at or above the flood stage of 18.5 feet and water entered the White's Ferry store.
Among other places closed were Riley's Lock Road off River Road, White's Ferry boat ramp and picnic area and the Sportsman Retreat area, Piringer said in a tweet.
Potomac River FLOOD WARNING @COcanalNPS @MontgomeryCoMD Riley's Lock Rd off River Rd CLOSED; Edward's Ferry boat ramp & parking area CLOSED; White's Ferry boat ramp, picnic area, Sportsman Retreat area CLOSED, incl White's Ferry Grill; & Billy Goat Trail A & B CLOSED; high water https://t.co/MycbIcR5Ve pic.twitter.com/LFd7BUCCZh

— Pete Piringer (@mcfrsPIO) May 8, 2022
.@COcanalNPS @MontgomeryCoMD Situational Awareness – The Great Falls entrance road (MacArthur Blvd) was closed due to falling trees (Saturday). The road is expected to reopen this morning (Sunday). NOTE: portions of the towpath, Billy Goat Trail A & Gold Mine Trail CLOSED https://t.co/GY42ze8eXL pic.twitter.com/mX3O3b5AJv

— Pete Piringer (@mcfrsPIO) May 8, 2022