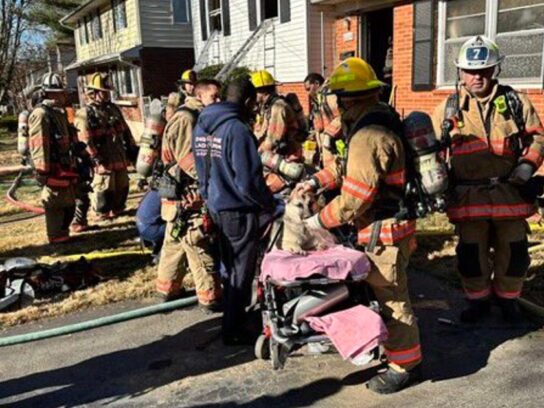 Updated Dec. 13 at 3:15 p.m.
While two dogs were resuscitated and have survived, three cats did not.
The fire is believed to have been started by combustibles on a refrigerator that was adjacent to a stove top. The damage, which was estimated at $75,000, extended to nearby cabinets.
The residents were not at home at the time of the fire.
A postal worker who was delivering mail saw smoke and heard smoke alarms.
A Go Fund Me site has been set up to help the family pay for a lengthy hotel stay, veterinarian bills and repairs to their home.
____________________________________________
Two dogs were revived after being pulled from a house that was on fire in the 11100 block of Dewey Road in Kensington Tuesday.
A person delivering mail saw smoke at the home and called 911, according to Montgomery County Fire and Rescue Services Spokesperson Pete Piringer.
There was a fire in the basement of this single-family home. The residents were not at home.
The dogs were taken to a veterinarian.
ICYMI – Dewey Rd, Kensington, @mcfrsPIO19 @MontgomeryCoMD @mcfrs https://t.co/dWIy7NrKEt

— Pete Piringer (@mcfrsPIO) December 13, 2022
Update – Dewey Rd, Kensington, @mcfrs rescued two (2) dogs rescued, both dogs have been transported to nearby veterinarian @MontgomeryCoMD passerby/mailman saw smoke and called 911, no residents were home st the time https://t.co/fJzgTQI0L2 pic.twitter.com/IHub7Dlngj

— Pete Piringer (@mcfrsPIO) December 13, 2022
Update: Two dogs rescued from house fire on Dewey Rd in Kensington. Both dogs have been revived. Units still working. pic.twitter.com/2SzY8TQn2f

— Lt. Francisco(Franco) Martinez (@mcfrsPIO19) December 13, 2022
Update – dewey Road, house fire, mailman smelled smoke, heard smoke alarms sounding &called 911; 2 dogs rescued (transported to vet); no one (human) home at time of fire; 1 family displaced; Damage ~$75K; https://t.co/oyRxokU0aX pic.twitter.com/OGtq2lu39h

— Pete Piringer (@mcfrsPIO) December 13, 2022