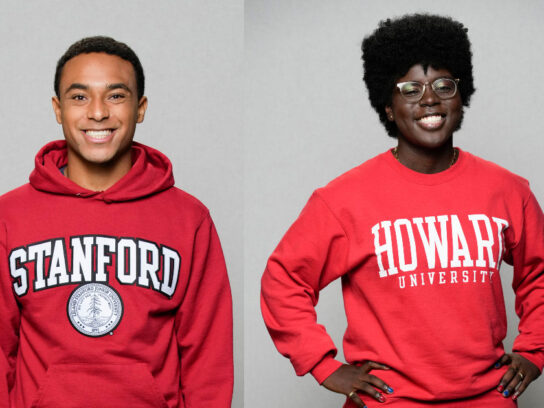 Former Richard Montgomery and Paint Branch High School students are hoping to ask the correct questions as they compete in this week's Jeopardy! National College Championship.
Paint Branch's Jess Agyepong, a senior majoring in biology at Howard University, and Richard Montgomery's Isaac Applebaum, a junior at Stanford University majoring in computational biology, are among 36 colleges students vying for the title of Jeopardy! college champion.
Applebaum, of Bethesda, will appear Feb. 8, and Agyepong will make her debut Feb. 11.
Agyepong is pursuing a degree in biology with a minor in chemistry. On her LinkedIn page, she wrote, "I also have a strong interest in venture capital and startup entrepreneurship."
She also noted that she is building a tech startup called Dermovont, which is an app designed to assist users to build and maintain their skincare routines by tracking products and progress.
While at Paint Branch, she played on the coed varsity golf team.
Applebaum played on the Richard Montgomery baseball team and was a National Merit scholar.
The nine-day televised competition hosted by Mayim Bialik begins Tuesday, The final rounds are set for Feb. 18 and Feb. 22.
Extremely excited to announce that I'm representing @HowardU in the @Jeopardy National College Championship! Come watch me compete in the first half of the show on February 11, 8/7c (next day on @hulu)#jeopardycollegechampionship pic.twitter.com/TieowljOtX

— Jess Agyepong (@jessdotxyz) February 3, 2022