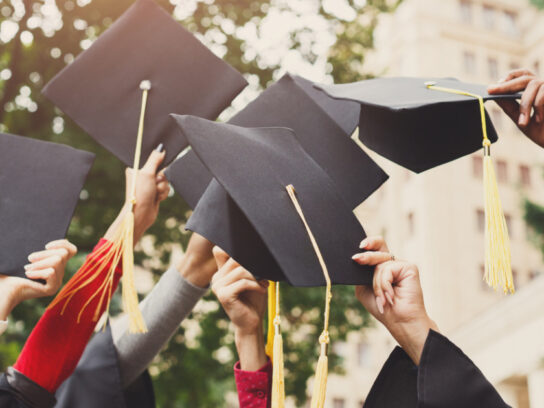 20 Montgomery County students have earned corporate-sponsored National Merit Scholarships in the latest round of awards for the graduating class of 2022.
Approximately 1,000 high school seniors have won corporate-sponsored National Merit Scholarship awards financed by about 136 corporations, company foundations, and other business organizations.
Awardees are selected from students who advanced to the Finalist level in the National Merit Scholarship competition and met criteria of their scholarship sponsors. Corporate sponsors provide scholarships for students who are children of their employees, who are residents of communities the company serves, or who plan to pursue college majors or careers the sponsor wishes to encourage.
Most of the awards are renewable for up to four years of college undergraduate study and provide annual stipends that range from $1,000 to $10,000 per year. Some provide a single payment between $2,500 and $5,000. Recipients can use their awards at any regionally accredited U.S. college or university of their choice.
Corporate-Sponsored 2022 National Merit Scholar Awardees
The winners, their intended career fields and the scholarship are:
Montgomery Blair High School
Celeste R. Basken, environmental policy, Distillers Distributors Foundation Scholarship
Aditya Chattopadhyay, computer science, CACI Scholarship
Kevin J. Gehl, law, Mary E. Beyerle Scholarship
Alena Y. Hu, mechanical engineerng, Leidos, Inc. Scholarship
Damascus High School
Pritham S. Mulagura, medicine, Mary E. Beyerle Scholarship
Winston Churchill High School
Amber Liu, medicine, Northrop Grumman Scholarship
Andrew T. Wang, medicine, Johnson & Johnson Scholarship
Justin Wang, electrical engineering, Astrazeneca Pharmaceuticals Scholarship
Richard Montgomery High School
Madeline E. Lawrence, undecided, Astrazeneca Pharmaceuticals Scholarship
Feileen N. Li, international business, Raytheon Scholarship
Vismaya P. Mohindra, international relations, Leidos, Inc. Scholarship
Emily S. Wu, business, Boeing Scholarship
Northwest High School
Melanie Duong, intellectual property law, Leidos, Inc. Scholarship
Imani Ghosh, medicine, General Dynamics Corporation Scholarship
Poolesville High School
Neha Chandra, medicine, Merit GEICO Scholarship
Arpita M. Raman, medicine, GEICO Scholarship
Vivian Y. Xiao, computer science, Astrazeneca Pharmaceuticals
Walt Whitman High School
Hugh Markham, entrepreneurship, The PWC Charitable Foundation Scholarship
Thomas S. Wootton

Keerthi Padmanabhan, materials engineering, Astrazeneca Pharmaceuticals Scholarship
Isra Qadri, public policy, Astrazeneca Pharmaceuticals Scholarship
Previous Posts: