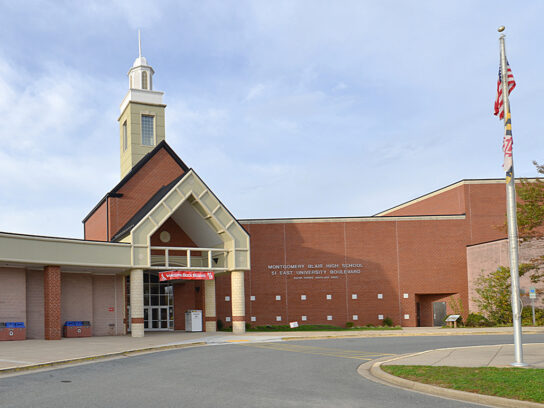 Montgomery County Public Schools (MCPS) has 231 semifinalists in the National Merit Scholarship competition this year from 16 of the county's high schools.
The semifinalists will compete nationally for scholarships that will be announced in the spring. The competition is sponsored by the National Merit Scholarship Corporation.
The semifinalists attend 16 high schools: Bethesda-Chevy Chase, Walter Johnson, Walt Whitman, Clarksburg, Damascus, Gaithersburg, Quince Orchard, Northwest, Albert Einstein, Poolesville, Winston Churchill, Richard Montgomery, Thomas S. Wootton, Sherwood, Montgomery Blair and Wheaton.
The schools with the most semifinalists are Montgomery Blair (42), Richard Montgomery (39), and Poolesville (37).
Semifinalists were selected from among high school juniors who were top scorers on the 2020 PSAT/National Merit Scholarship Qualifying Test. Approximately 16,000 semifinalists across the nation will be considered for advancement to the finalist stage of the competition.
Finalists will be considered for $2,500 National Merit scholarships, plus additional corporate-sponsored and college/university-sponsored scholarships that will be announced later in the school year.
In 2021, MCPS had 157 National Merit semifinalists.
The 2022 MCPS semifinalists are:
Bethesda-Chevy Chase
Joey G. Giordano
Noah B. Knishkowy
Sanjula Pingali
Auguste Rame
Evan M. Song
Hannah Z. Thier
Grace C. Wilkins
Hudson Yon
Walter Johnson
Andrew P. Berube
Ainesh Chatterjee
Abigail J. Dodd
Emily Hsu
Yixin Lao
Sophia E. Meytin
Alexandra A. Osterhues
Henry L. Ponyicsanyi
Richard Sbaschnig
Martin Soros
Charles Z. Wang
Walt Whitman
Joseph A. Aron
Griffin J. Beckley
Samuel J. Bogdanovsky
Christopher Brown
Iman Ilias
Joshua M. Lee
Felix J. Leonhardt
Grace E. Li
Lily Liu
Hugh Markham
Aravinth Venkatesh Natarajan
Nil Ozdemir
Sarah C. Price
Shelby L. Roman
Peter P. Silvia
Christopher C. Sylvester
Shue Ying L. Tan
Merin E. Thomas
Ezra Tinsky
Maxwell C. Walker
Clarksburg
Sarah R. Thomas
Damascus
Veronica Ivanovskaya
Pritham S. Mulagura
Mesha Shajahan
Gaithersburg
Ishaan S. Antani
Quince Orchard
Robert J. Hellewell
Louis C. Lee
Noah R. Pinson
Alison S. Wang
Northwest
Angel C. Apollos
Melanie Duong
Imani Ghosh
Jessica H. Hoang
Jacob Johnson
Krisha V. Patel
Margaret M. Slaughter
Flora Yen
Albert Einstein
Brandt Kaufmann
Poolesville
Rohith Banda
Ishaan B. Bhardvaj
Ishaan Bhardwaj
Leonard W.Bian
Praneet Boggarapu
Neha Chandra
Jeffrey Chen
Julia Z. Chen
Maxwell F. Chen
Orion C. Foo
Shruthi Ganesh
Arun Ghosh
Kylie Y. Gong
Frank L. Horrigan
Ayaan Z. Hussain
Stella In
Amrita Jilla
Harshita R. Kalbhor
Kaviya Kandaswamy
Omar F. Khan
Christine M. Kim
Nicole D. Kim
Katharina Kiryutin
Johann M. Kuruvilla
Satvik S. Lolla
Benjamin E. Nachod
Sydney Ozbun
Nikhita Pabbaraju
Akash K. Raghu
Aaron Tian
Davy Wang
Eric Z. Wang
Vivian Y. Xiao
Chang Robert S. Xu
Justin Yi
Paige L. Yu
Crystal L. Zhang
Winston Churchill
Theron Amaralikit
Maya Bhattiprolu
Rohan N. Daftary
Robert J. Diaz
Jeremy S. Fredricks
Ria Garg
Rohin Garg
Sahil Joshi
Sarah I. Kimel
Amber Liu
Andrew B. Liu
Jason Lu
Angela Luo
Devika Mathur
Jake D. Michaels
Allison D. Moon
Phoebe M. Qian
Ryan Song
Allen J. Tang
Ayokunle Tobun
Andrew T. Wang
Justin Wang
Stefanie Wang
Tom J. Wang
Grace M. Yoon
Zain A. Zarger
Rebecca L. Zhu
William Zhu
Elisa A. Zoltick
Stephanie R. Zoltick
Dan Wei G. Zuo
Richard Montgomery
Julia S. Angel
Anthony A. Boboc
Nicholas E. Buckovich
Sagar F. Castleman
Daniel J. Choi
Eleanor J. Clemans-Cope
Lynna Deng
Nicole Fang
Myka V. Fromm
Angelina E. Guhl
Patrick Kim
Victoria C. Koretsky
Madeline E. Lawrence
Hayden M. Lee
Anbo Li
Feileen N. Li
Yolanda Y. Li
Kenshiro E. Lim
Jennifer Lin
Elizabeth N. Mai
Danielle C.Martin
Eliana F. Mazin
Una Mekic
Athira J. Nair
Jonathan M. Nalikka
Hana R. Olooney-Goto
Aaron T. Ouyang
Corrigan C. Peters
Justin L. Pham
Arman T. Sagmanligil
Mihil V. Sreenilayam
Bence P. Szego
Victoria Tong
Visesh S. Uppoor
Francesca N. Venditti
Sofia I. Wallace
Emily S. Wu
Upaasna Yadav
Rosemary E. Yang
Thomas S. Wootton
Maanav V. Allampallam
Lawrence Y. Bu
Nicolas A. Depalma
Jasmine X. Gong
Kelly Ji
Srirashmika Kanipakala
Annika S. Kulkarni
Benjamin M. Li
Charles Mash
Keerthi A. Padmanabhan
Isra Qadri
Nicholas P. Qiu
Anjali S.Samavedam
Sophie E. Umansky
Shrutha Venkatesan
Shreeya Venkatesh babu
Brandon J.Wang
Justin R.Wang
Michael D. Wang
Sherwood
Emma C. Bair
Reade E. Fenner
Wendy D. Tu
Montgomery Blair
Celeste R. Basken
Matthew R. Casertano
Aditya Chattopadhyay
Aiesha Chaudhry
Samuel S. Chen
Benjamin M. Cohen
Maia A. Egnal
Efe Eroz
Kevin J. Gehl
Chujia Guo
Natanel W. Ha
Ryan Z. He
Andrew J. Healey
Albert Y. Ho
Alena Y. Hu
Grace Hu
Michael Y. Hu
Samantha M. Jayasundera
Shane E. Jayasundera
Tharindi S. Jayatilake
Sally L. Kaye
Jihwan Kim
Hawon Lee
Jason H. Liu
Grace Ma
Malcolm D. Maas
Leela K. Mehta-Harwitz
Rohan I. Ojha
Jade Palosky
Henry Ren
Edward G. Rong
Ava C. Santiago
Zoe Schoeneman-Frye
Joy H. Song
Steven Su
Amy L.Tang
Ashley Thommana
Jeffrey W. Tong
Samuel K. Verbrugge
Liam E. Volz
Sirui Xue
Hannah T. Zhang
Wheaton
Benjamin B. Andelman
Lily Ciel L. Behnam
Anne C. Sacks