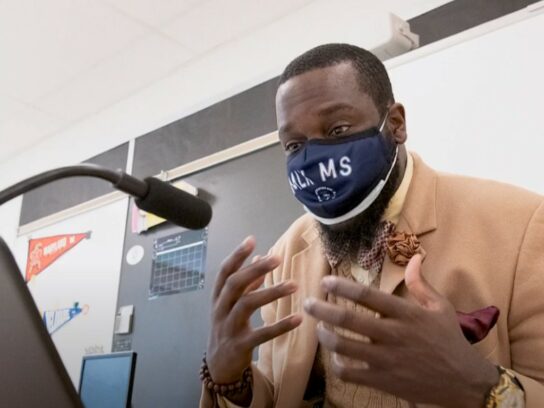 24 teachers from counties across the state were recognized June 3 as Teachers of the Year during a virtual summit with Maryland State Superintendent of Schools Karen B. Salmon, Ph. D. According to a press release from the Maryland State Department of Education, the educators from grade levels pre-k through 12 that were chosen by their school systems, will work together in a cohort to address policy issues that arise within the next year.
MSDE congratulates our 24 local Teachers of the Year for 2021-2022! Thank you for your leadership and commitment to Maryland children. pic.twitter.com/UpHxIS28el

— Maryland State Department of Education (@MdPublicSchools) June 3, 2021
Salmon said, "Our Maryland Teachers of the Year distinguish themselves by setting an unparalleled benchmark for public service, creativity and love of learning. As a cohort, they will help lead us forward as we bridge to the future and emerge from the Covid-19 pandemic."
The Maryland State Department of Education says their mission for the Maryland Teacher of the Year program is "to honor, promote and celebrate excellence in the teaching profession." Those selected are known for making large contributions to their communities and leaving a positive impact on student learning.
To qualify for the prestigious title, educators must have five years or more of teaching experience in their county. They're then interviewed by a panel, board of education members, school staff, their County Council of Parent-Teacher Associations and members of the Greenblatt family.
Among the winning teachers was Joseph Bostic, Jr. from Martin Luther King, Jr. Middle School in Germantown. In April, the math content specialist and eighth-grade team leader was named Montgomery County Public Schools' 2021-2022 Teacher of the Year.
According to MCPS, Bostic is known for using data to modify instruction in order to meet student educational needs which has resulted in better performance on assessments. He also led the creation of the school's math webpage to help provide valuable resources to families.
Last month, Bostic spoke about his past and overcoming homelessness. He told MyMCM that sharing his story with students has helped others become more comfortable with sharing theirs.
"We don't know what situation they're coming in from, what untold story they are holding onto every day, but that greatness— that superpower that we share in that classroom space will make a difference for all students in the county," Bostic said.
Bostic, along with the other chosen teachers, will soon compete for the title of Maryland Teacher of the Year which will be announced virtually on October 7, during a Maryland Public Television Special. The sole winner of Maryland Teacher of the Year will then compete with other state winners for the title of National Teacher of the Year.
Related Posts:
MCPS Teacher of the Year Overcame Homelessness: 'It's That Untold Story That Can Set a Lot of People Free'
Martin Luther King, Jr. Middle School Educator Named MCPS Teacher of the Year