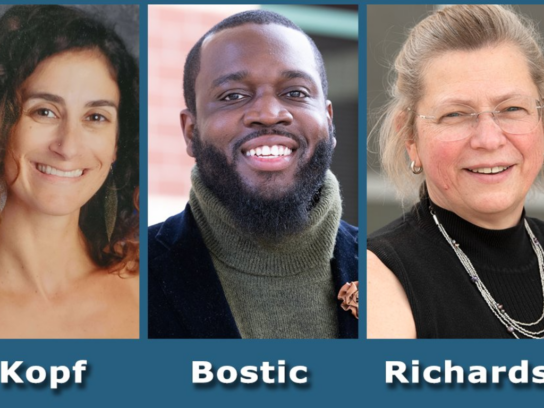 Montgomery County Public Schools (MCPS) announced three finalists designated by the Marian Greenblatt Education Fund for the 2021-2022 MCPS Teacher of the Year Award. The finalists include Sara Kopf from New Hampshire Estates Elementary School, Joseph Bostic from Dr. Martin Luther King, Jr. Middle School, and Patricia Richards from Walter Johnson High School. 
The fund will also honor Lindsay Flint, a fourth-grade teacher at Chevy Chase Elementary School. She will be presented with the Rising Star Teacher of the Year award. This award honors teachers with less than five years of experience whose creativity and enthusiasm encouraged students to stretch themselves and achieve more.
To qualify, teachers must have five years or more of teaching experience in the county. They will also be interviewed by a panel of educators, board of education members, school staff, the Montgomery County Council of Parent-Teacher Associations, along with members of the Greenblatt family.
Congratulations to the three teachers who have been named finalists for the MCPS Teacher of the Year Award by the Marian Greenblatt Education Fund! https://t.co/QVEUjkGmD8 pic.twitter.com/ZZlrrvKpk8

— MCPS (@MCPS) March 10, 2021
According to a press release, Kopf has been teaching first grade for 20 years in MCPS elementary schools. She spent the bulk of her career predominately teaching underserved students, many of whom speak a language other than English. "Her students are taught to never give up. They recite a daily mantra including phrases like, 'I am valued. I am loved. I can achieve anything!'" Heather Holmes, a school colleague, said in a press release.
Bostic is a math content specialist and a part of the instructional leadership team, according to a statement by the fund. He uses data to modify instruction to meet student's needs thus resulting in better student performance on assessments. According to the parent of one of his students, "Mr. Bostic's love of teaching shines through in this challenging teaching environment and he truly has each student's best interest at heart."
Richards is a high school science teacher with 25 years of experience with MCPS. According to a press release, her peers describe her as a positive, dedicated, and strong leader. Principal Jennifer Baker said, "One cannot look at any aspect of the culture and climate at Walter Johnson High School without seeing a direct pathway to Ms. Richards. She is a mentor, leader, teacher, colleague, influencer, creator, believer, and so much more."
The selected finalists will be honored, along with other MCPS staff and partners, for their tremendous work as part of the annual Champions for Children Awards Celebration. In addition to this, the MCPS Teacher of the Year will be named during the event, and go on to compete for National Teacher of the Year. The award ceremony will be held virtually this year on April 7.