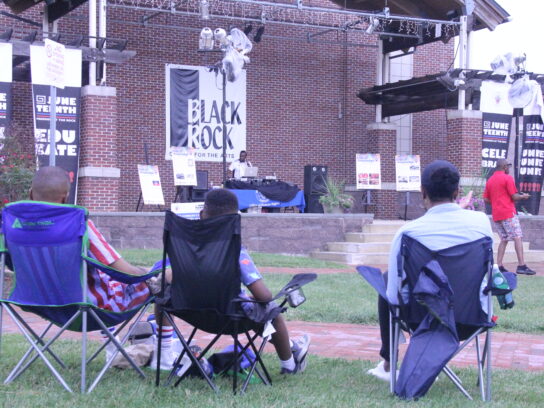 The 7th annual presentation of the African American Living Legend Awards kicks off the county's 25th annual celebration of Juneteenth.
County Executive Marc Elrich will present the African American Living Legend Award to five Montgomery County residents Friday night. The five recipients are Pearl Green, Rosalyn Cain King, Anita Neal Powell, Ambassador Curtis A. Ward, and Alma L. Williams.
The awards are given every year to distinguished individuals who are living legends in Montgomery County and have helped shape the cultural heritage of the African American Community. Per the press release, "The 2022 Annual African American Living Legend Awards will be presented to five individuals who have dedicated their lives to service, advocacy, and selfless acts of kindness to their community." The ceremony is being held at the BlackRock Center of the Arts in Germantown at 6:30 p.m. on Friday. For more information about the recipients, click here.
The BlackRock Center of the Arts is also holding events on Saturday, June 18 for the holiday. The free family-friendly celebration features food, dance classes, art exhibits, concerts, and much more. New festivities this year include the "Trail of Knowledge" educational passport activities, food trucks, and a journey of historical African American music and artistic entertainment. The celebration takes place from 10:00 a.m. to 10:00 p.m. For more information about the events or to register, click here.
Ride On will also provide shuttle service to the attendees of the Juneteenth Celebration. The shuttles will operate between Seneca Valley High School, Montgomery College Germantown Campus, and the Black Rock Center. They will run every 15 minutes between 12:00 p.m. and 11:30 p.m.
We'll be at the Montgomery County's Juneteenth celebration this Saturday! Hope to see you there!https://t.co/Irfv00MAuZ pic.twitter.com/QlMvuCdjZF

— Arts on the Block (@artsontheblock) June 17, 2021
County Executive Marc Elrich said, "Juneteenth is a chance to gather with our community, celebrate our diversity, and remember our history. We reaffirm that we are stronger as a County because of our diversity. This year's Juneteenth activities are designed to engage and educate, as well as entertain, because this holiday is a reminder that we can't take freedom for granted. We look to the future with great hope and with a renewed commitment to pursuing justice. I urge our residents, and visitors, to join us for this year's Juneteenth celebration and spend time learning more about this important national holiday."
Juneteenth commemorates the 157th anniversary of June 19, 1865, the day that the last slaves in the Confederacy were delivered the Emancipation Proclamation and liberated in Galveston, Texas by Union troops. President Biden signed legislation making Juneteenth a federal holiday last year. This year's celebration marks its first official observance as both a national and County paid holiday.