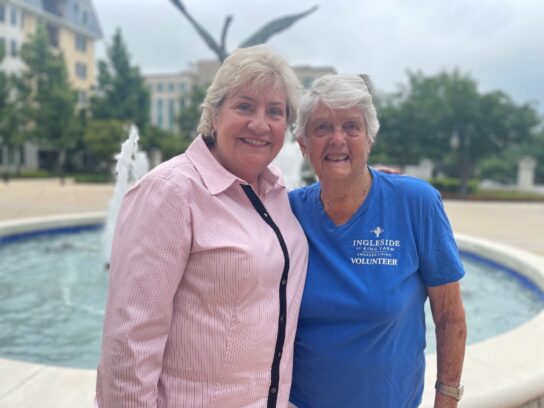 Debbie Loube is the Director of Community Engagement at Ingleside at King Farm (IKF), a life plan community in Rockville, and an indispensable part of the volunteer program and resident services team.
As a native Washingtonian, Loube has cultivated a life-long commitment to Montgomery County, which she brings into her role at Ingleside at King Farm. Loube graduated from Winston Churchill High School and has a degree in political science from George Washington University. After spending 20 years in the dry-cleaning industry, she and her husband decided to sell their businesses, a move that propelled Loube into her role at Ingleside at King Farm.
Loube is passionate not only about her job, but about the residents at Ingleside at King Farm. Their comfort, enjoyment, and fulfillment are paramount to her. She personally calls and schedules an orientation for each new resident and acts as a resource for both new and longtime residents.
She and the residents work in partnership in identifying and pursuing volunteer opportunities, both within and outside the Ingleside at King Farm community. Some highlights of her work include volunteering alongside residents at Interfaith Works Clothing Center coordinating the creation of a volunteer-created mural, and the ideas and music shared at weekly Link Generations meetings between residents and students.
Among the many volunteer programs at Ingleside at King Farm, there are two that are both staff and resident favorites: the resident-run Tech Support Group and the Salon Escort Volunteers.
The Tech Support Group is made up of tech-savvy resident volunteers who respond to resident tech requests. Since the group's inception, well over 150 residents have been assisted! The Salon Escort Volunteers collaborate with the IKF salon and healthcare staff to coordinate resident transportation to and from appointments, ensuring efficiency and resident safety along the way.
"The most rewarding part of my job is meeting our residents, they're an accomplished group of seniors," Debbie says. "Each resident has an interesting background and they've all become like family."