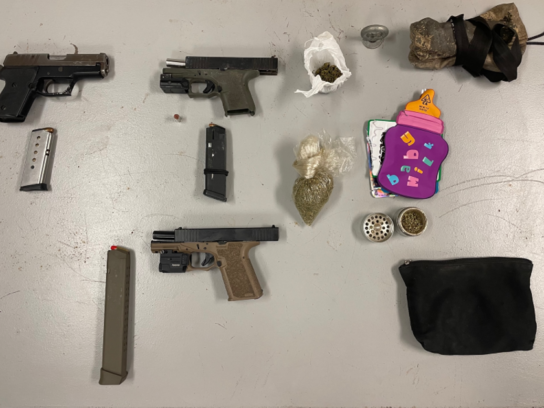 Montgomery County Police arrested and charged five individuals in Clarksburg for illegally possessing firearms and controlled dangerous substances.
Police identified the individuals as Isaac Walker, 22, Malik Walker, 20, Kristin Walsh, 24, Kim Peaks, 19, and a 14-year-old male.
Authorities say they received information from a confidential source about a large gathering on Sept. 1, at an unknown location in Clarksburg.
"Additional information was provided to officers stating that many of the individuals attending would also be carrying illegal firearms during this gathering," according to a press release from police. "At approximately 7:40 p.m., the individuals were all seen leaving the location in multiple vehicles.
Officers say they then conducted two simultaneous traffic stops at separate locations. Police detected and observed controlled dangerous substances (CDS) in both vehicles, according to the press release.
Upon conducting a vehicle search, officers found one loaded Sig Sauer .45 caliber handgun, one loaded Glock 43 style P8O 9mm ghost gun, one loaded Glock style P8O 9mm ghost gun with a 30-round extended magazine, and assorted CDS and paraphernalia.
Authorities say occupants of the vehicles included eight individuals – five adults and three juveniles. They all were transported to the 5th District Station.
Isaac and Malik Walker of Germantown, Kristin Walsh of Derwood, and Kim Peaks of Gaithersburg were then sent to the Montgomery County Central Processing Unit. There they were charged with illegal possession of firearm and controlled dangerous substance.
Investigators determined that Malik Walker, Kim Peaks, and the 14-year-old juvenile were persons prohibited from possessing a firearm.
The 14-year-old juvenile was charged and released to the custody of his parents.